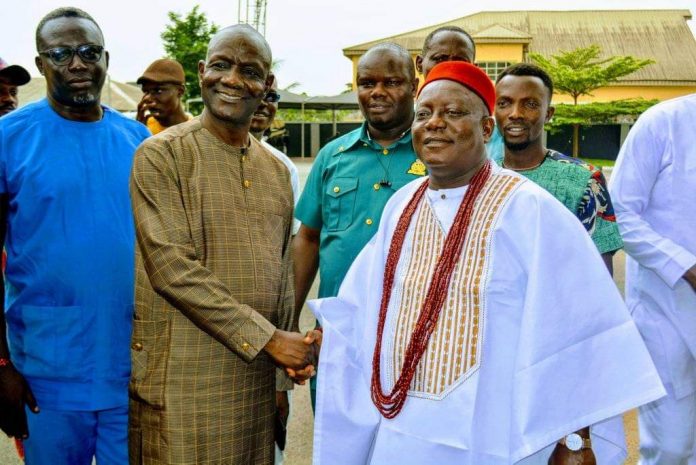 Executive Director, Finance and Administration of Delta State Oil Producing Areas Commission, DESOPADEC, Chief Barr John Nani, has said that Delta Central Senatorial District will experience uncommon transformation if elected Senator in 2023 under the Peoples Democratic Party, PDP.
Nani, a former Commissioner in Delta State, made the promise on Saturday 19th March, at his country home in Jesse, Ethiope West Local Government Area, when he played host to Executive Members of Coalition for Media Politics and Governance, CMPG, led by the Executive Assistant to Delta State Governor on Communications, Chief Dr Fred Latimore Oghenesivbe Esq.
He said the All Progressive Congress, APC, has performed abysmally in all aspects of our national endeavours including poor representation by their elected representatives, adding that if elected the Senator representing the good people of Delta Central Senatorial District, he would not only protect the mandate but to do exactly what the people of the district want him to do.
Nani, who is also a lawyer and Palace Chief in Jesse Kingdom commended the monumental achievements of the state governor, Senator Dr Ifeanyi Arthur Okowa in infrastructure development, human capacity building, job and wealth creation, sports, education, health, as well as prudent management of state resources and for providing results oriented visionary leadership.
He urged the good people of Delta State, to continue to support the state governor, and to partner with him as the state leader of PDP in the forthcoming governorship election, pointing out that in order to take the Stronger Delta Agenda beyond 2023, Deltans must of a necessity support, project and vote any competent person supported by the governor.
Nani said the state cannot afford to take ten steps forward and twenty steps backward, which is why Deltans must trust and accept the sound judgment of the governor in our collective quest to vote a courageous, humble, competent, loyal l, tested and trusted individual in the person of Rt Hon Sheriff Oborevwori, the longest serving Speaker of Delta State House of Assembly and the Ukodo of Okpe Kingdom, who was recently adopted as governorship candidate by Delta Political Vanguard, DPV.
The EDFA of Desopadec commended the EAC to the Gov Okowa and Chairman of CMPG, Barrister Fred Oghenesivbe, not only for performing creditably well in his assigned responsibilities but for playing a dual role of a moral compass through his well scripted numerous articles which to a large extent helped to shape the conscience of the people, saying that CMPG is the only well organised and credible media and communication group in the state after the Nigeria Union of Journalists, NUJ.
Nani accepted his nomination as one of the Patrons of Coalition for Media Politics and Governance, CMPG, and urged the group to keep the flag flying by effectively and efficiently projecting the numerous achievements of Okowa administration till the end of tenure on May 28, 2023 and beyond.
"I accept my nomination as one of the Patrons of Coalition for Media Politics and Governance, CMPG. I have been following your activities and it is heart warming to know that you have also nominated His Excellency, the Governor of Delta State as your Grand Patron.
*Our great leader and amiable governor has performed beyond our collective expectations in the midst of a fragile, unstable and poorly managed economy by the national government of the All Progressives Congress, APC.
"Today, Deltans can see their money in infrastructure and socioeconomic development across the three senatorial districts. That's good governance on display and we must continue to support our leader and governor to finish strong.
"I want to use this occasion to inform members of CMPG as your Patron, that I am fully in the race to be the next Senator representing the good people of Delta Central Senatorial District in 2023. I have consulted widely and still consulting.
"I have the capacity, exposure, sound educational background, political and work experience spanning nearly four decades, and as such I am eminently qualified to fly PDP flag in 2023. I am going to the red chambers to work for Delta Central and Urhobo nation, to work for Delta State and for Nigeria.
"I am going there to do what the people sent me to do and what they want me to do. I am not going there for pleasure or to mismanage the peoples mandate. I am going to the red chambers to bring dividends of democracy and at the same time make Laws for Nigeria. It is a serious business and I will take the mandate of the people of Delta Central with all seriousness.
"CMPG belong to the state, it belong to me and CMPG is for all right thinking Deltans because of what the group stands for; Media Politics and Governance. I need CMPG support at this critical electioneering period and I know you will be there for me.
"I must not fail to appreciate and commend the Chairman of CMPG, Barrister Fred Latimore Oghenesivbe, for his enviable performance in his assigned responsibilities as EAC to the governor. He took further steps to assemble all of us into CMPG. This is commendable. Apart from NUJ, CMPG is the only well organised and credible media and communication group in Delta State.," Nani added.
Earlier in his opening remarks, Chairman of CMPG and Eacgov, Barrister Fred Latimore Oghenesivbe said the choice of Barrister Nani as Patron of CMPG was arrived at after critical scrutinisation of his pedigree and enviable track records in politics and public service.
"Chief Nani, you are one of the finest breeds and illustrious son of Urhobo nation and a true Pan Deltan. You are detribalised, focused and dependable.
"We thank you for accepting to be one of our Patrons. His Excellency, the Governor is our Grand Patron as contained in CMPG constitution.
"Our Patrons shall be formally inaugurated in the near future. The reception you accorded us today goes to show that you will do well if given the mandate to represent the good people of Delta Central Senatorial District in this dispensation.
"And as our patron, we shall seize the airspace, the airwaves and the social media space to further your ambition to the red chambers. You have CMPG support now and always.
"It is truism that 'pen is mightier than the sword." We shall use our pen to project your laudable and sincere ambition.
"CMPG membership cut across the three senatorial districts in the state, with members drawn from the conventional and new media. We are 45 members at the moment and we hope to accept more members as we make steady progress.
"We wish you well in your new endeavour and CMPG will be there for you," Oghenesivbe assured.