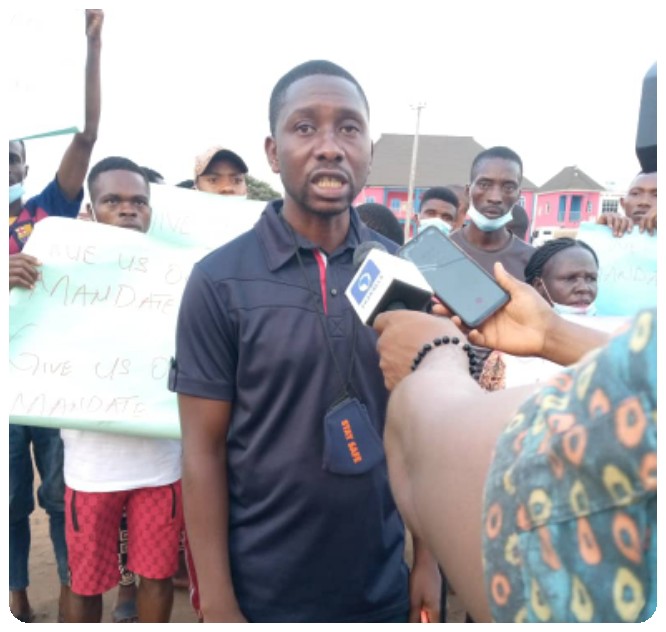 An APC Councillorship Candidate in Ward 6 Issele-Azagba in Aniocha North local government area of Delta State, Mr. Uwandulu Samson has protested the alleged refusal of Delta State Independent Electoral Commission, DSIEC to declare him winner of the just concluded Councillorship election in Issele-Azagba.
Uwandulu who staged a protest in front of DSIEC office in Asaba on Sunday 7th March, 2021, said he polled a total number of 407 votes to defeat his closest rival and PDP candidate who polled 318 votes.
Presenting the result sheets to journalists, the APC candidate said as votes were collated counted and results entered at the Ward level, the PDP leaders immediately whisked the POs and Returning Officer away, making it difficult for him to be declared winner by the DSIEC authority.
Uwandulu affirmed that not too long after the drama, PDP supporters started jubilating that they had won, that they had gone to write another result with DSIEC as the party in charge.
Crying out to pressmen, the APC candidate and his supporters appealed to the media to help them secure their mandate freely given to Mr Uwandulu Samson by the good people of Issele-Azagba. They were carrying placards with the inscription "Give us back our mandate".
Meanwhile, no DSIEC official came out to address them even after efforts were made by some journalists to get the DSIEC Chairman or any of the Commissioners to speak on the matter.
However, an APC leader in Issele-Azagba, Comrade Gabriel Nwajei had called on DSIEC to correct the impression the people already had on it by reversing the injustice done to the young councillor whom he said is loved by his people and was given the mandate to represent them at the Legislative Arm of Aniocha North Local Government.
He said that DSIEC would be held responsible should the crisis already brewing in Issele-Azagba Community escalate to something that even the State cannot manage.
Nwajei also called on Governor Okowa to direct DSIEC to do the needful to avoid throwing the community of Issele-Azagba into an uncontrollable crisis.
His words, "The APC candidate, Uwandulu Samson won the election. It was clear, 407 against 318 is a clear victory.
"We will not fold our arms and watch this broad day robbery take place and not do something. We will use all available political and legal means to fight this injustice until our mandate and victory is restored", Nwajei posited.