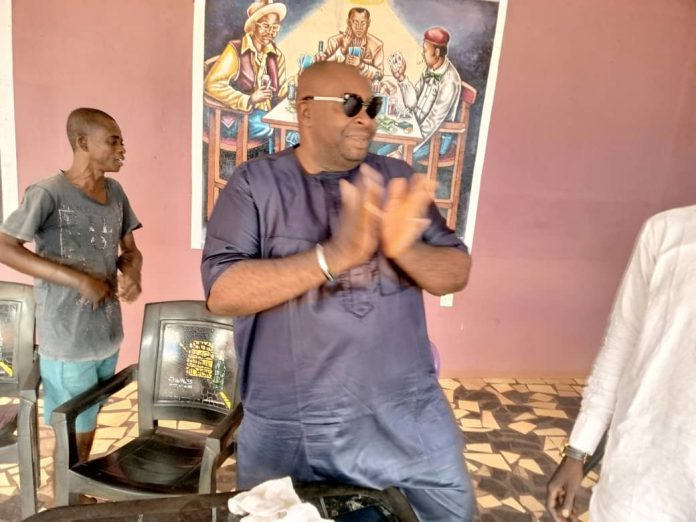 By Patrick Ochei
Delta State Governor, Senator Dr Ifeanyi Arthur Okowa has appointed the immediate past Vice Chairman of Aniocha North Council and grassroots mobilizer of delight, Hon. Tobechukwu Ukwamedua as Senior Special Assistant to the Governor on Political Matters.
The appointment has come in recognition of Ukwamedua's visibility in the politics of Aniocha North, Delta State and beyond.
Meanwhile, as soon as the news of the former Vice Chairman's appointment was brokered, his followers and supporters immediately besieged his Guest House in Issele-Azagba, dancing and rejoicing.
It is said that when the righteous is in power the people rejoice. Hon. Tobechukwu Ukwamedua is a politician loved by all in Issele-Azagba and this has placed him over and above every other political leader in that community.
This is one politician that has continued to empower women and youths of Issele-Azagba community with sincerity of purpose and honesty.
In a brief interview with our correspondent at Issele-Azagba, he gave all glory to God the Maker of the Universe who directs the affairs of every man.
Ukwamedua appreciated the Governor, Senator Okowa for his magnanimity and kind gestures towards him.
The former Vice Chairman said that Okowa is not just a politician to work with but a father figure who understands every of his follower and always has structural plans for their motivations.
His words, "I must say I am fortunate to have a Governor like Okowa who understands the feelings of his foot soldiers at the grassroots.
"He has decided to recognise my importance in my community and Aniocha North in terms of grassroots politics. I thank him and our leaders too.
"I want to promise not to disappoint him for believing in me and giving me this opportunity to serve once again. This will in no small measure too alleviate the burden of having to personally cater for so many of my people", Ukwamedua posited.
Hon. Tobechukwu Ukwamedua was one of the Chairmanship aspirants for Aniocha North Local Government under PDP before Hon. Kelvin Okwechime was given the ticket and he eventually emerged winner under PDP.