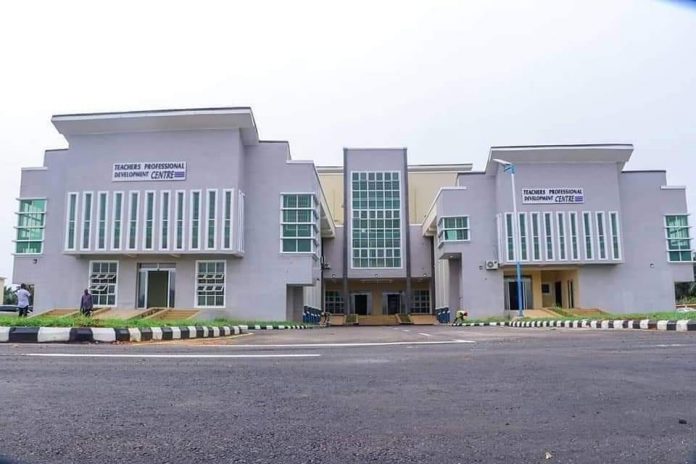 By Fred Latimore Oghenesivbe, JP.
#eacgovdelta
Right from the outset, governor of Delta State, Senator Dr Ifeanyi Arthur Okowa, abhorred procrastination and procrastinators in order to get things done as planned, because good governance does not happen by accident. It is never a product of mother luck.
In the same vein, visionary leadership entails great ideas, proper planning, forecasting, directing, prudent management of financial, human and material resources; for the attainment of goals, policies and programmes of government.
A good and purposeful leader must of a necessity be disciplined, proactive, morally fit and stable, firm and reasonably bold, and above all, must fear and love God. Governor Okowa perfectly aligned himself with these salient qualities; and within five years in office, the Ika born medical doctor cum super technocrat displayed rare achievements in the governance of Delta State.
The latest being the inauguration of the world class Teachers Professional Development Centre,TPDC, in Owa-Oyibu, Ika North East Local Government Area of the state. The gigantic modern buildings seats on a large expanse of land, with good network of roads within and around the institute.
The tastefully furnished and equipped lecture auditoriums have the capacity to accommodate not less than 700 student teachers, fused with administrative blocks, music and arts studios, laboratories, computer room, physical and virtual libraries, elevator and residential lodge of 110 rooms, to enable students enjoy the excellent and comfortable learning environment throughout the duration of their course of study, theory and practical training at TPDC.
The dazzling edifices and state of the art facilities at the teachers Institute attracted commendation from the special guest and executive governor of Abia State, Dr Okezie Victor Ipeazu, who is also an academician of no mean repute. For him, Governor Okowa's style of leadership and achievements is way beyond pedestrian governance.
Ikeazu, looked at Governor Okowa and said: "you mean well for the good people of Delta State, your desire to raise standard of education in Delta and Nigeria, is sufficiently reflected in this wonderful project that we here to commission today. I doff my hat for you."
Governor Ikpeazu still finds time to lecture at Abia State University, despite his tight official schedules as governor, a rare display of patriotism that prompted governor Okowa to specially invite him to commission the Teachers Professional Development Centre in Delta State.
Delta Basic Education Commissioner, Chief Patrick Ukah, fnipr, disclosed that the Communique issued at the 2016 Teachers Summit in Asaba, gave birth to the idea of establishing the centre as a panacea for the advancement of professional skills and knowledge of teachers in Delta and across the country.
Teachers outside the state will be admitted to study the four approved courses leading to award of professional certificates and registration of graduands with the Teachers Council. A desk has been allocated to the Council at TPDC for this purpose.
Governor Okowa made it abundantly clear during TPDC inauguration ceremony that the days of mushroom teachers are gone for the better, and that training and retraining of teachers and remodelling of curriculum in schools in line with state and federal education policies and curriculum shall be adhered to strictly, going forward.
It is the wish of Delta State Governor that teachers reward should be here on earth. It will be a great injustice to teachers, if other professionals enjoy their reward on earth while that of teachers is deferred, to take happen in Heaven. Our teachers should and must enjoy the fruits of their labour as well as receive their reward on earth.
It is therefore safe to assert that the inauguration of TPDC is another credible evidence of the genuine intentions of this administration and governor Okowa's total commitment to consistently develop the professional skills of teachers. It is hoped that other incentives will come the way of teachers in Delta State, sooner then later, subject to availability of funds.
The completion and inauguration of the professional institute is obviously another "first" achieved in infrastructure development in the education sector relating to teachers by governor Okowa. The class and profesdional standard of TPDC situated in Owa-Oyibu in Delta State, cannot be found in any other state in Nigeria, in this dispensation. This is a statement of fact, and not a political statement.
It is also glaring that this achievement (TPDC) cannot be faulted by members of the opposition political parties due largely to the fact that the teachers institute is not only a beauty to behold and pride of Delta and Deltans, but also a centre where teachers loyal to PDP, APC and other parties will be trained and retrained for proficiency, career upgrade and promotion.
When we say governor Okowa is working, we are simply saying that the EKWUEME is building a Stronger Delta, for Deltans.
Stronger Delta, Let's Build Together!