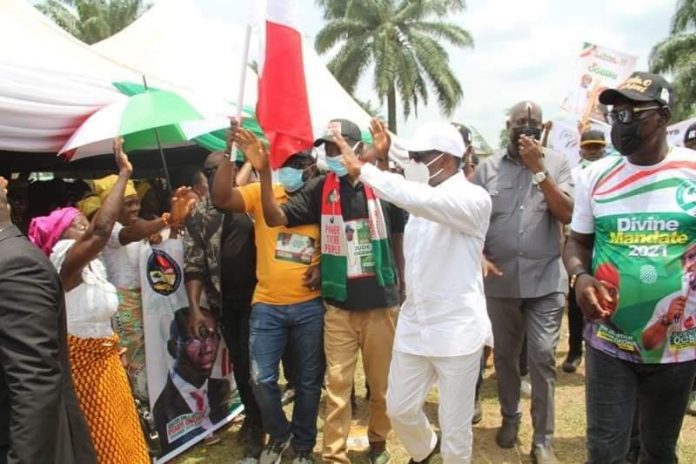 By Fred Latimore Oghenesivbe, JP
#eacgovdelta
Leadership by example, LBE, is the universal principle generally accepted to be the best method for good governance and/or corporate attainment of goals. There is none compared to it, it is adjudged the most potent leadership strategy in representative government and corporate governance.
LBE, connotes excellent and visionary leadership wherein the arrowhead or in the instant case, the governor, play active roles; mentally, physically as well as directing actions and inactions in line with planned strategic steps to attain projected state interests, execution of policies and programmes.
And in the game of politics, LBE, involves active participation by party leaders in the planning and execution of electioneering strategies targeted at winning elections. It is not just about delegation of functions and authority, but playing active physical roles to motive eligible voters from the very start to finish.
LBE democrat is a political leader who is always abreast with party activities and on ground campaigning with candidate (s) and speaking the language of politics to address the needs and aspirations of the people. He combines good governance with proactive leadership in the political arena, actively supervising field officers and those saddled with key responsibilities to ensure the success or victory of the party in an election.
A close look at the good governance strides and political leadership of the governor of Delta State, Senator Dr Ifeanyi Arthur Okowa, revealed that he is both a super technocrat and political tactician of no mean repute. He's got the political willpower, has uncommon grasp and knowledge of politics. He is well gounded in grassroots political Penetration's and not swayed by profitless sentiments and permutations.
His electioneering strategies are result oriented, carefully planned, well targeted and meticulously implemented to fruition. Governor Okowa, is a workaholic and those around him cannot afford to be lazy folks. From inspection and commissioning of projects to honouring social invitations and to mobilizing party faithfuls for ward to ward campaigns, he never looked back until projected results are achieved.
Governor Okowa deploys the principle of "Leadership By Example (LBE," in governance and in his assigned responsibility as the leader of the Peoples Democratic Party, PDP, in Delta State, and as Chairman of South-South Governors Forum, SSGF.
Governor Okows proved himself as a consummate leader and political strategist during the nonelective convention in Abuja and 2019 PDP Convention held in Port Harcourt, Rivers State; adjudged to be the most credible, transparent, free and fair convention in Nigeria, since the advent of constitutional democracy. That is what it is, not praise singing. It was televised live, from start to finish and without blemish.
The latest of governor Okowa's LBE was witnessed in the just concluded bye-election in Isoko North State Constituency. He took part in the entire planning process and the governor was on ground campaigning from ward to ward with party leaders and party faithfuls. He drove the process to perfect fruition.
He rallied round PDP Isoko North candidate, Hon Jude Ogbimi who until recently was the governor's Senior Special Assistant on Political Matters. Governor Okowa had several electioneering campaign interface with the good people of Isoko North, showcased his track records as a promise keeper and went ahead to make new promises; to build more roads, markets and ensure that DESOPADEC completed ongoing projects and take up new ones under this administration.
The people of Isoko North are very happy because of his antecedent as the TALK NA DO governor, who also upgraded Ozoro Polytechnic to a full fledged University – Delta State University of Science & Technology. He got standing ovations, persistent clapping of the hands and several screaming of EKUEME, the promise keeper!
It was a fascinating electioneering campaign experience packaged to ensure that PDP relegated the main opposition party, the All Progressives Party, APC, to the dustbin of political history.
The election was held and APC suffered a humiliating defeat due largely to the adequate preparations for the bye-election by PDP; the intimidating scorecard of Okowa administration in the state, and in Isoko nation, the we planned and executed electioneering campaigns led by Governor Okowa, the state party chairman, Barrister Kingsley Esiso and the enviable popularity of PDP candidate, Hon Jude Ogbimi, a philanthropist.
PDP defeated APC in the Isoko North State Constituency Bye-election with a staggering 27,000 votes, haven scored 29,421 as against APC 2, 543 votes. It was alleged that Delta APC attributed her abysmal performance and shameful outing to the absence of President Mihammadu Buhari, who is currently on medical pilgrimage in United Kingdom.
It was further alleged that the factional chairman of APC, Prophet Jones Erue, said another reason for his party failure was connected to the heavy down pour of rain in Isoko North, two days before the election, making it impossible for APC members and supporters to file out to cast their votes for the party's candidate.
Other unconfirmed sources posited that the Deputy Senate President and Leader of APC in South-Siuth Geopolitical Zone, Senator Ovie Omo Agege, was alleged to have threatened to sack Jones Erue, ovee the party's poor outing after several millions of Naira was allocated to drive the process to fruition.
The source further added that Erue fired back at Agege, saying that he (Agege) ought to relocate to Isoko North and participate in the planning process and ward to ward campaigns like the state governor, Senator Dr Ifeanyi Arthur Okowa. APC Delta has been in deep crisis since INEC declared PDP winner.
However, feelers from Olorogun Otega Emerhor's faction suggests that both Erue and Agege put together cannot withstand the political sagacity of governor Okowa and PDP. Emerhor, according to unconfirmed sources told Agege and Erue to be truthful to themselves, at least for once, adding that there is no principality that could have stopped PDP from winning the bye-election, judging from Okowa's good governance strides in the state and in Isoko nation, coupled with the supremacy of PDP in state politics.
In all of these, one thing is certain and clear, and that is that governor Okowa's leadership by example paid off in the just concluded Isoko North State Constituency Bye-Election.
Kudos to Governor Okowa, Bravo to PDP, Congratulations to Hon Jude Ogbimi.
Stronger Delta, Let's Build Together!