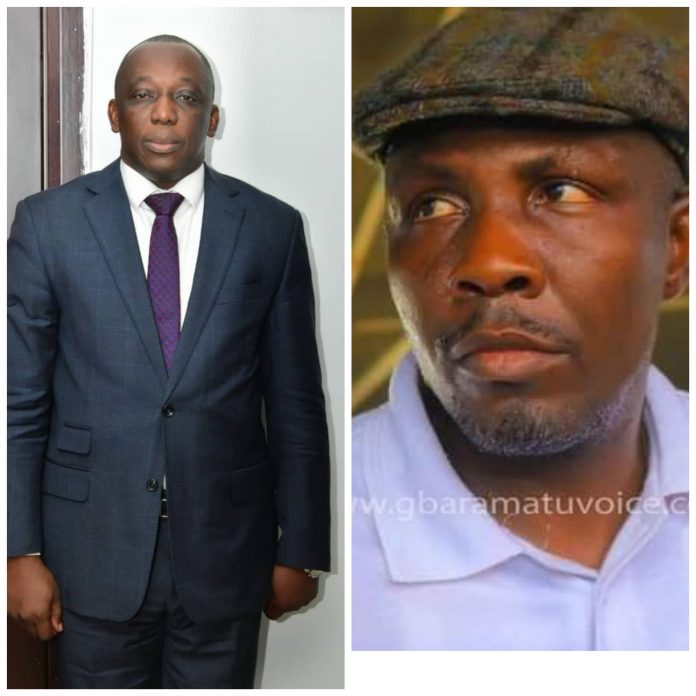 Executive assistant to the Governor of Delta State on Communications, Dr Barr Fred Latimore Oghenesivbe, JP has congratulated the Attorney General and Commissioner for Justice, Hon Peter Mrakpor, SAN, over his new status as the President of the Chartered Institute of Information and Strategy Management, PCIISM, for the next four years.
Oghenesivbe in a goodwill message to Mrakpor and made available to newsmen in Asaba, on Tuesday April 13, said the choice of Mrakpor is deliberate and timely to position the institute in a higher pedestal, as the nation yearns for specialised skills of information and strategy managers.
He said information and communication strategists are needed at this time to create greater awareness for the new Normal occasioned by Covid-19 pandemic around the globe, adding that as the dreaded disease gradually disappears from our individual and national life, information managers must begin to craft messages of hope that would ease off the phobia of the pandemic to accelerate economic activities.
He described Mrakpor as an accomplished legal luminary, a result oriented and highly resourceful law officer of the state; a member of the Body of Benchers in Nigeria, and an astute politician who deploys multifaceted skills to serve humanity in both private and public sectors for over three decades and still counting.
Oghenesivbe, who is also a Fellow of the Chartered Institute of Information and Strategy Management, fciism, urged the new CIISM President to grow the institute membership, ensure periodic and compulsory capacity building programmes for members in order to consistently sharpen the skills of information and strategy managers in the country.
"I rejoice with my learned silk, Hon Mrakpor for this special appointment as CIISM President for the next four years. Another colourful feather added to his cap and it comes with enormous responsibilities.
"I urge you to hit the ground running and raise the stake for CIISM in terms of membership drive, partnership with other similar professional bodies and regular capacity building programmes for members.
"I wish you a successful tenure, divine wisdom and good health in the years ahead," Oghenesivbe said.
In a related development, Okowa's Communication strategist has felicitated with Chief Government Ekpemupolo, aka Tompolo; a prominent Nigerian citizen and progressive Deltan, on the occasion of his 50th birthday anniversary celebration.
Oghenesivbe said Chief Ekpemupolo has done well for the Niger Delta Region, especially his roles in advancing the socioeconomic empowerment and development of oil producing communities, through active participation in the struggle for a fair share of the national cake, survival and development of oil producing communities in the South-South geopolitical zone.
He recalled how Tompolo was unjustly harassed via the mass media, and labelled a wanted man for no justifiable reasons by APC national government under President Mohammadu Buhari, adding that God protected him and preserved his precious life to the dismay of his enemies and haters. To God be the glory!
"At 50, Tompolo clinched enviable identity for himself as a bold, courageous and result oriented agitator who together with others fought for the socioeconomic advancement of the Niger Delta Region.
"He is indeed a force to reckon with in our collective quest for resource control and federalism as presently canvassed by the visionary South-South Governors, led by the Platinum Governor of Delta State, Senator Dr Ifeanyi Arthur Okowa.
"In the light of the above, I wish to join my amiable boss, the governor of Delta State, to felicitate and celebrate a core Deltan and a patriotic Nigerian, Chief Government Ekpemupolo, on the occasion of his 50th birthday anniversary celebration.
"The people of Niger Delta region and Deltans in particular, hold you in high esteem and shall continue to love and celebrate your sagacity, and the enviable roles you played and which you will continue to play in our unrepentant advocacy and genuine demand for resource control, true federalism, massive infrastructure and socioeconomic development of oil producing States and communities in Nigeria.
"I pray God to grant you divine wisdom, longevity, greater spiritual transformation and uncommon wealth as you enter your next level of service to humanity," Oghenesivbe prayed.