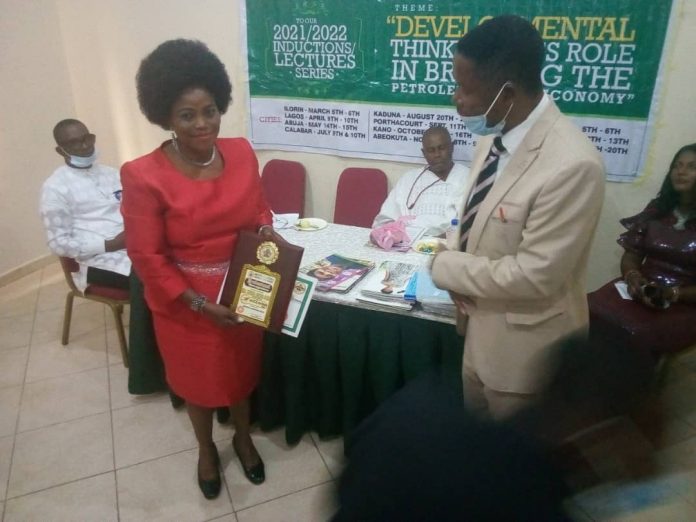 By JOHNSON EBIGIDE
The Institute of Human and Natural Resources has inducted the Director of Information (DI) in the Ministry of Information, Delta State, Mrs Theresa Adiabua-Oliko (JP) FHNR, as fellow of the institute with a development leadership award at the prestigious Orchid Hotel in Asaba, the state capital.
Presenting the award to the DI, the Coordinator, South-South geopolitical Zone, Dr Munonye Osondu, of the Institute said that she was being recognised for her silent but determined approaches at developing the society, adding that Mrs Adiabua-Oliko had impacted positively in uplifting humanity in the course of advancing her career as an information manager in the state.
He enjoined the awardee to continue to be a trail blazer in her chosen career, adding that it was not difficult for the institute to discern and recognise her developmental drives as well as her passion for her job, just as he urged her to add values to the growth of not only the institute as a fellow, but the society at large.
Responding, an elated Mrs Adiabua-Oliko thanked the Institute and its trustees for finding her worthy to be a recipient of the award and fellow of the institute, adding that it was gratifying for ones modest contributions to be so discovered and recognised in the society.
She said that the recognition called for more commitments and dedication to the service of humanity, adding that it would afford her the rare opportunity to cross pollinate ideas with other intelligentsias who were also fellows of the institute at taking humanity to greater heights.
The information director noted that she was particularly happy that fellows of the institute may not be highly placed politicians or money bags in the society, but were drawn from personalities who in the course of advancing their careers had brought developments to their communities in particular and the public in general.