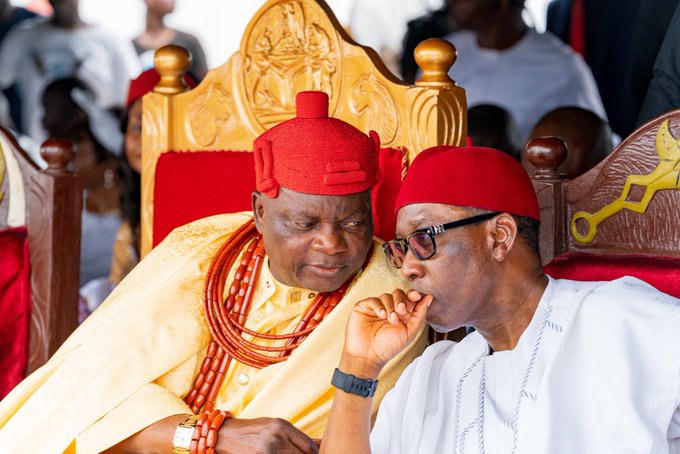 His Royal Majesty, HRM, Ogunrimerime Ukori 1, the Ovie of Agbon Kingdom, has again commended the platinum governor of Delta State, Senator Dr Ifeanyi Arthur Okowa, over what he described as uncommon transformation and overall development across the three senatorial districts.
The royal father made the commendation on Tuesday 27th April, in his palace at Otorho Agbon, when the immediate past Local Government Auditor General of Delta State, Okakuro Abel Esievo, visited the royal palace to formally inform the King of his retirement from service after meritorious service.
Ukori 1 said governor Okowa has done well judging from his prudent management of the state resources which gave rise to the construction and rehabilitation of roads, rehabilitation and construction of bridges, storm water drainages as well as ensuring sports and airport infrastructural developments.
The highly proactive king thanked the state governor for the rehabilitation and commissioning of the Oviorie Oha Road, adding that it will further enhance transportation of goods and services.
He urged the good people of Urhobo nation and Deltans in general to give the state governor the needed prayers, moral and other necessary supports to enable him accomplish his well intended Stronger Delta Agenda.
HRM Ogunrimerime congratulated Esievo for servicing the state without blemish and offered prayers for his well-being, God's guidance and protection in his future endeavours.
The royal father also disclosed that the Isiokolo Divisional Police Headquarter is now under Ughelli Area Command based on his protest letter to the Inspector General of Police, IGP, adding that before now it was under Sapele Area Command.
Ovie of Agbon Kingdom thanked the IGP, Mr Usman Alkali Baba, for using his good office to address the royal request and wished him well in his genuine efforts to reposition the Nigerian Police for better service to the government and people of Nigeria.
And on a lighter mood, HRM Ukori 1, recognised the presence of the Executive Assistant to the Governor of Delta State on Communications, Chief Barr. Fred Latimore Oghenesivbe, JP, saying that the royal palace recognises his communication prowess.
The EACGOV thanked Ukori 1, for the recognition and promised to visit the palace and the King at regular intervals, so as to sit under the tutulage of the wise and humorous royal father to tap from the King's reservoir of knowledge.
"Our amiable governor has done well in multifaceted way through his good governance initiatives. His good works are visible throughout the three senatorial districts. He is a leader with good conscience, highly intelligent and a workaholic.
"Governor Okowa deserves our consistent prayers, total support and other necessary assistant that will enable him to fully accomplish the ongoing implementation of the Stronger Delta Agenda," Ukori 1 said.