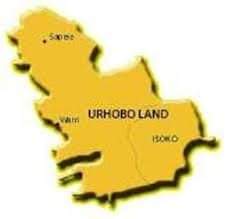 BY ESE ADAGBRA
Urhobos of Warri,in Warri South Local Government Areas of Delta State has vow to not have anything to do with an Itsekiri EXTREMIST who is contesting for the Warri Federal Constituency or any other aspirant at the detriment of their interest.Just as they described the statement allegedly credited to the Olu of Itsekiri people as " Reckless And Unprogressive" when he was addressing his people at his Palace over the Federal Constituency and Warri South Constituency 2,
In 7- Point Communique Titled: The Asaba Declaration, Signed by, Chief Dr,Westham Adehor ( JP) Chairman ,Chief Isaac Emifoniye (,JP) Vice Chairman, Olorogun Victor Okumagba, (JP) Secretary and Comrade Festus Ukeje,( JP) for themselves and on behalf of Urhobos of Warri People's Democratic Party PDP Faithful, which was formed in 1999 to protect,promote and project their Political interest, made available to newsmen after their meeting held on Monday,28, February,2022, among resolved as thus:
We are going to distance themselves from from any ITSEKIRI EXTREMIST contesting for Warri Federal Constituency, or any other ASPIRANT to the detriment of Urhobo People in Warri South Local Government Area,
We are going to support any Governorship Aspirant who will take our present POLITICAL PREDICAMENT as utmost priority and address same as as soon as possible.
We are going to DISTANCE OURSELVES by not VOTING or WORKING for any ASPIRANT who does not believe in our EXISTENCE as part of Delta South Senatorial District,
We view the recent STATEMENT credited to the OLU OF ITSEKIRI PEOPLE over Warri South Constituency 2,as RECKLESS AND UNPROGRESSIVE.
We urged our people who are the most POPULATED to take advantage of the present Independent National Electoral Commission INEC Registration Exercise to get their Permanent Voter Cards.( PVC)
We Support His Excellency, Dr, Ifeanyi Okowa Governor of Delta State to finish strong in his STRONGER DELTA MISSION and pledge our our loyalty.
We passed a VOTE OF CONFIDENCE on the LEADERSHIP OF URHOBOS OF WARRI PDP FAITHFUL.