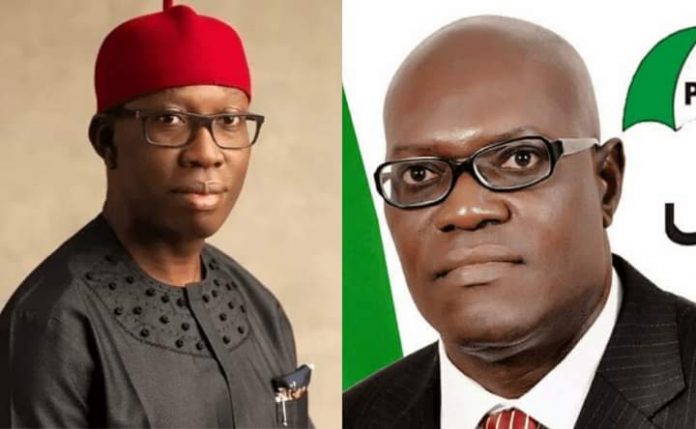 By Fred Latimore Oghenesivbe Esq
There is no gainsaying the fact that 2023 will be an important year in the political life of the Peoples Democratic Party, PDP, and a deciding factor in cementing the robust political intercourse between the three senatorial districts, and among the founding fathers of the party in Delta State.
I was very sincere in my last piece, and made it very clear that it will not make any political sense for us to continue the debate on rotation of power based on tribe or ethnic nationality. It is completely out of place, too narrow minded politically and will always be counter productive.
Those hungry for short-cut power should quench their thirst with fruits of the spirit which include patience. They should place the peaceful coexistence of several decades, unity and brotherly love far and above personal or individuals politucal interests.
It is common knowledge in politics for certain wealthy individuals or economically buoyant groups to support party candidates financially, morally and in multifaceted ways. When these happens there are other ways and means for the party and those in power to compensate election financiers and other stakeholders. I need not state ways and means to channel compensations.
Sponsorship of candidates or financial assistance is a regular thing in politics from Presidential election to state and local governments. And it will be completely out of place for election financiers to hold the entire state, country or stakeholders to endless debates. Chief Chubike Amaechi, Minister of Transportation and others funded Buhari's campaign heavily in 2015, but the financiers may not necessarily succeed President Mohammadu Buhari in 2023. And its obvious that all or some of them must have been duly compensated in several ways.
Delta Central waited for 16 years and cannot add another 8 years of waiting. It does not matter how you look at the issue. It is becoming glaring that PDP, our beloved party, will not take the risk of bypassing Delta Central, because such political permutation will certainly result to political suicide. Don't be deceived, our party may never be the same again if this glaring injustice is allowed to rear its ugly head.
I know for sure that the leaders of our party will never engage in any political manipulation or strategy capable of instigating complicated internal party crisis that may never be resolved till Jesus Christ comes to reign gloriously among his saints.
The political problems it will generate for our party will be monumental should PDP not zone the governorship slot to Delta Central in 2023 or should the primaries be stage managed in favour of a tribe or ethnic nationality. The outcome may not be pleasant for our party, which is why I am appealing to our state party leader and governor, Senator Dr Ifeanyi Arthur Okowa and other major stakeholders to do the needful.
I trust our highly experienced political leader and incumbent governor of Delta State when it comes to uncommon strategies and pleasant political surprises. There is no need for us to take unnecessary risk in this dispensation. The Holy Bible says "…even the lawful captives shall be set free" when God steps in. We must remain united and be our brothers keeper.
The Isoko nation of Delta South is already warming up for 2031 governorship lobby and our Ijaw brothers should focus their political permutations along the reasoning of Isoko nation, because that is the ideal time for Delta South to be back again in the power saddle after her tenure from 2007 to 2015.
I want to state it clearly again and again that it will never make any substantial political sense and equity will be murdered politically in broad day light should Governor Okowa handover power to Delta South which handed over same power to him in 2015. It sounds complicated and essentially ridiculous in a highly tensed political terrain like ours, Delta State. Therefore, 2023 political engineering and strategies must be handled with great wisdom, tact and result oriented precision.
Our amiable governor, Senator Dr Ifeanyi Arthur Okowa, must be given the privilege to determine his successor from Delta Central in consultation with other party leaders. It is unacceptable for any former governor of our state to solely determine who succeeds governor Okowa.
Deltans will recall in 2007, when our former governor, Chief James Ibori, unilaterally decided on who to succeed him and his choice (Dr Emmanuel Uduanghan, his Cousin) prevailed against all odds and protests. Elder Statesman, Chief E.K Clark corroborated this fact in his recent Vanguard Newspaper interview with Emma Amaize.
In the same token, Okowa is the incumbent governor, which is why past governors of the state must of a necessity accord him same privilege; allow him to nominate his successor and all of us will immediately queue behind our leader and PDP to deliver our party's gubernatorial candidate in 2023. This is the way to go.
Some people are saying that heavens will fall if they don't get the governorship ticket at the PDP primaries in 2022. Haba! Let peace, good conscience and equity reign supreme in this matter. No one particular ethnic nationality can deliver a governorship candidate at any general election or party primaries. At best, an ethnic group or tribe block votes can only boost the victory but should never take 100% credit for the candidate's victory.
A governorship candidate may succeed in grabbing party's ticket but may not win the governorship election. It has happened repeatedly across the country. Let us thread with caution because there is always another day. Our Ijaw brothers should wait for Delta South slot in 2031.
The best thing to do within the PDP family in Delta is to align with the decision of our royal fathers who are currently working round the clock to sustain power rotation on senatorial basis, not on the basis of tribe or ethnic nationality.
Party candidates are the responsibility of all party members before, during after general elections. Financial assistance has always been an integral part of electioneering commitments by wealthy members among us. We appreciate them and they will continue to benefit in multifaceted ways in the years to come.
If we must allow equity, good conscience and peaceful coexistence to persist in the party and in the state generally, then we must allow Delta Central to field governor Okowa's successor, with the understanding that the governor be allowed to nominate his successor as it was in the beginning in 2007.
Frankly speaking, Delta South had her tenure from 2007 to 2015 and cannot again take over power in 2023, after 8 years. It will never add up politically.
Delta Central will not wait further as can be seen from the body language of all political gladiators, traditional rulers, party members and supporters across board.
Stronger Delta, Let's Build Together.
About the Writer: Olorogun Dr Fred Latimore Oghenesivbe Esq, JP, is a PDP Chieftain, a Lawyer, Fellow of the Civilian Institute of Democratic Administration, F.CIDA and Chairman, Coalition for Media Politics and Governance, CMPG.