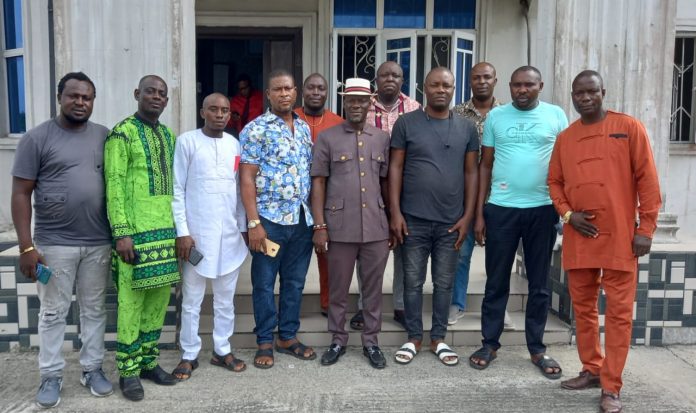 A group, Peoples Democratic Party Political Mandate (PDPPM), has promised to enthrone good governance come 2023 and beyond with its activities.
The group which made this known when they paid a courtesy visit to the Chief Executive Officer of Center for Peace and Environmental Justice, Chief Sheriff Mulade at Ugolo-Okpe, Delta State, recently,  stated that the group was made up of young adults that are poised to change the narratives.
National Coordinator of PDPPM, Rt. Hon. Sunday Apah, who spoke on behalf of the group, said PDPPM is on the building process of spreading its tentacles across the 25 Local Government Areas in Delta State and subsequently the other 35 states including the Federal Capital Territory.
He explained that major objective of the group is to ensure that good governance is enthrone in Delta State and Nigeria come 2023 and beyond. "And that would be done by encouraging electorates to register with INEC as voters in order to dethrone bad governance in the country.
"We will also encourage delegates of the PDP to vote for aspirants of their choice in all the categories of elective positions", he added.
On his part, Chief Executive Officer of Centre for Peace and Environmental Justice (CEPEJ) and former Governorship aspirant, Comrade Chief Sheriff Mulade, pray God to give Nigeria good leaders that would change the narrative.
He urged members of the PDPPM to vote for aspirant of their choice that has the requisite qualifications and yearnings of the people at heart.
He urged aspirants to jettison campaign of 'our turn', region, ethnicity, senatorial and focus more on what they can do for the people.
He stated further that he held former Governor James Ibori very high in terms of performances, as his development strides spread across the state.
According to him, "he brought relative peace to the riverine areas of the state when he constructed the Bomadi, Omadino and other bridges. He solved the conflict between the Itsekiri and the Ijaws when he relocated the Warri South West Local Government Area from Ogidigben to Ogbe-Ijoh.
"It was Ibori that initiated zoning on basis of senatorial district, and it brought about peace and stability in the polity. So, I am ready to support any group that will support competence and capacity", he added.
Mulade appealed to members of the PDPPM to sensitize Deltans on the need to vote for competence and capability.