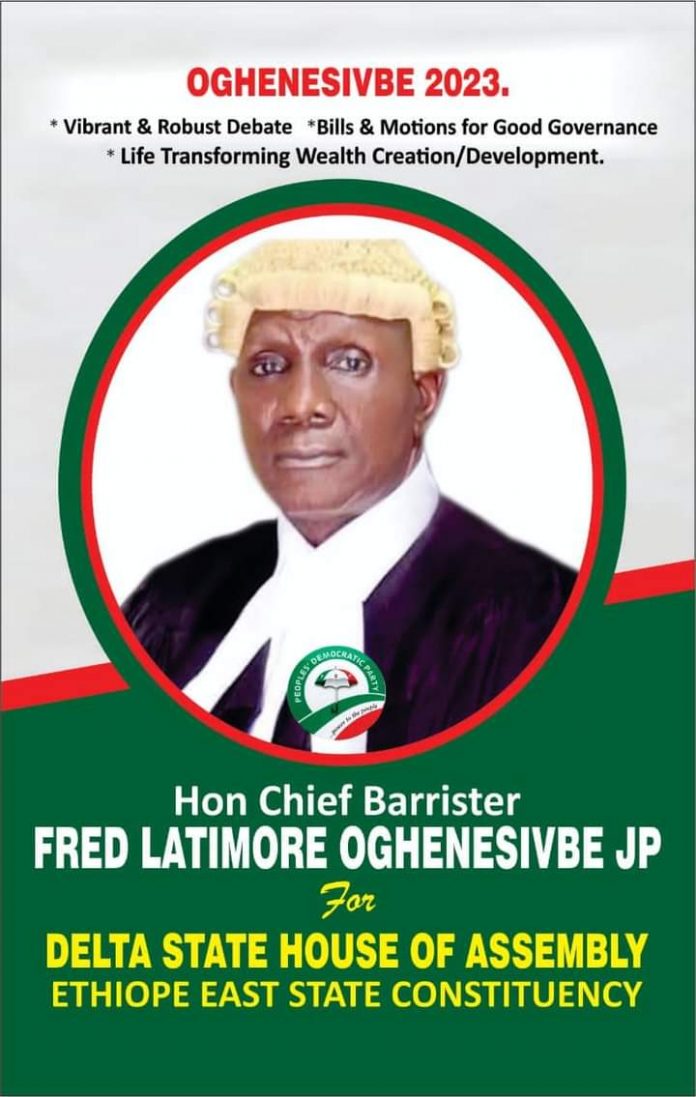 Executive Assistant to Delta State Governor on Communications, Dr Fred Latimore Oghenesivbe Esq, on a second thought has decided to jettison his ambition to run for Ethiope East State Constituency under the Peoples Democratic Party, PDP.
The EAC's withdrawal from the race was contained in a state on Monday 14th March and made available to newsmen in Asaba.
Oghenesivbe gave three cogent reasons for his action saying that his boss, the Governor of Delta State, Senator Ifeanyi Arthur Okowa, graciously recalled him recently to his assigned responsibility as Eacgov when his detractors boosted that it was completely over, and that it was essentially fair for him to appreciate the governor's uncommon leadership willpower by standing by him to finish strong in 2023.
The second reason he gave was that his unavoidable partial exit from media and political communication at this critical time in pursuit of his personal ambition may create a lacuna that is not required right now, as we strategize to commence yet another full-scale electioneering campaign activities, especially the party primaries and governorship election in the state.
The third and final reason adduced by Okowa's vintage Executive Communication Aide is that as the convener and pioneer Chairman of the Coalition for Media Politics and Governance, CMPG, the responsibility rest heavily on him to drive the group's laudable vision and mission till such a time the group will elect another Chairman to take over responsibilities from him.
He further posited that CMPG members resolved at the formation stage to also project any aspirant nominated or supported by governor Okowa, for the 2023 governorship election, adding that it will amount to abandoning the group's valid resolution to pursue his personal ambition, a development Oghenesivbe considered to be grossly inappropriate at this foreseeable critic electioneering period.
"I have decided to take a bow from the race for Ethiope East State Constituency, so as to focus on my official responsibilities till the very terminal date of Gov Okowa's tenure on May 28, 2023.
"After extensive internal consultations it became obvious that my foreseeable partial exit from active strategic communication to pursue personal ambition may negatively impact on the needed media politics before, during and after general elections, more particularly the governorship election in Delta State.
"I was also compelled to withdraw my declared ambition so as to led and to coordinate the Coalition for Media Politics and Governance, CMPG team during and after the governorship election in the state. And in the same token, to accept and discharge other responsibilities assigned to me before, during and after the forthcoming general elections.
"I wish to use this public medium to respectfully thank some of my leaders, party faithfuls, media partners, friends, fans, family members, associates and well wishers for your positive response to my earlier declared ambition. I am indeed very grateful and humbled. God bless you all, God bless Delta State.
"However, I will support any eligible, academically qualified, intelligent, a vibrant extrovert and responsible aspirant and/or candidate for Ethiope State Constituency. He or she must be a PDP chieftain, genuinely and fully loyal to governor Okowa and stakeholders," Oghenesivbe, said.
Stronger Delta, Let's Build Together.