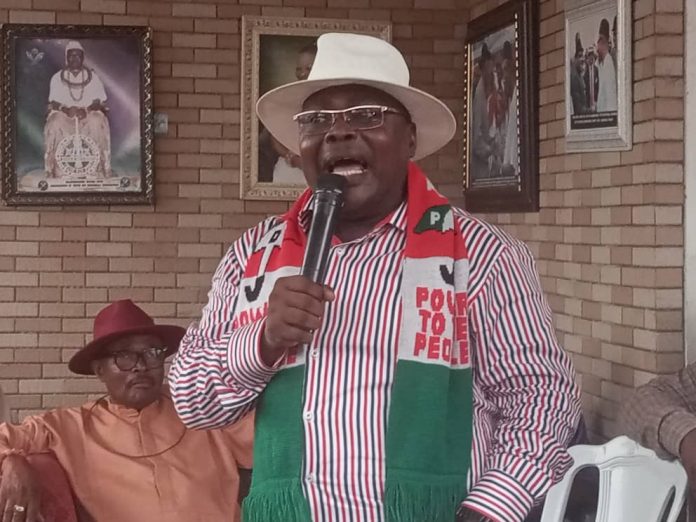 By Kenneth Orusi
The Senior Pastor of the Heroes Aglow Gospel Ministry a.k.a Heroes Family, Pastor Elvis Peters Uto has declared his intention to represent the good people of Ughelli South State Constituency in Delta State House of Assembly, maintaining that he is in politics to enthrone the presence of God and quality representation.
The Civil Engineer game changer made this assertion while consulting leaders and members of PDP Ewu wards 1, 2 and 3 at the country home of their leader, Olorogun Oviri Uto at Ekiugbo area of Ughelli North Local Government Area of Delta State.
The top Delta State House of Assembly aspirant for the 2023 general elections, said if Ughelli South State Constituency had seen representation before, they would see good representation now when elected.
Engr. Uto gave the assurance on Sunday March 20th, 2022, at an Emergency Meeting of Ewu Wards 1, 2 and 3 where he declared his intentions to run for the House of Assembly seat to represent the good people of Ughelli South Constituency.
The House of Assembly aspirant, who stole the show with his team of supporters whose presence sent quivers to the spines of the other two opponents who were already seated, causing them to hurriedly leave the meeting for other exigencies.
He informed the gathering that his desire to represent them was borne out of an evidence of lack of projects across Ughelli South haven worked with the State Government as a Structural Engineer for Oghara Teaching Hospital, and was the Superintendent Engineer for Ika South LGA, Ndokwa East LGA, Ukwuani LGA and Head of Project Monitoring Team under the governor's office.
He disclosed that during his tour of the 25 local government areas, he saw projects whereas in Ughelli South, the people were groaning in abject poverty, just as he revealed that Honourable Members of the House, called his attention severally to inspect projects in the Councils but that the reverse was the case in Ughelli South.
He said his sojourn at that time, was to supervise and inspect in order to ensure that projects meet international standard before the governor could sign for payments.
"That experience took me to this journey. I went round the 25 local government areas, I saw developments, I saw projects and I saw the presence of government in local government areas but when I got to my local government area, I shed tears", he said.
He lamented a situation where indigenes of communities in the local government area would be called upon to make financial contributions before getting schools for their children to learn.
While noting that there are already existing laws that could better the lots of the people, he promised to change the narrative by offering quality representation.
His words, "Enough of giving us bread, there's nothing bad if we get the bakery. The bakery is better than the bread. I have come not just to give you the bread but to give you the bakery. I have put my integrity on the line to make sure you experience true representation" insisting that his wealth of knowledge has taught him what it means to truly represent a people.
He continued, "At this point in my life, it is not what I can get; by the grace of God, I am not looking for food or shelter, I am looking for service and for opportunity to be a blessing to my people. If you think you have seen representation, you are about to see good representation", he declared.
The versatile engineer cum minister of the gospel, who declared never again that politicians will continue to live fat to the detriment of the people, said: "when I was in government, politicians came to carry me to put projects in their local government areas in my care, but for my own, there was no one who came to say this project in our local government area, please handle it for us. And we sit down here and clap for them because of peanuts.
"Never again. We are taking over, we are making sure that Ughelli South receives attention, we are making sure that Ughelli South leaders and elders get their voices back again", he thundered.
He called on the constituents to join him to make it work, reiterating that he has put his integrity at stake for the betterment of the local government area.
Speaking in an interview, Mr. David Ejorno JP, from Orere in Ewu Ward 2, said: "We are very pleased with Pastor Uto because he is vibrant and it is the turn of Ewu people to represent Ughelli South in Delta State House of Assembly. We have many Ewu sons and daughters coming for the position, but when the time comes, we are going to choose among them who has a better interest of Ewu people at heart. We are pleased with him and we encourage him to continue with his consultations, when the chips are down, we will know those who are serious and those who are just there to play to the gallery".
Another respondent, Chief Luke Onovwie, from Omosuomo Community, Ewu Ward 3, said he cherished the interest and passion with which Engr. Uto addressed the gathering, affirming "I am pleased with his remarks, he has a vision for the growth and development of Ewu and if he is the one to take us to the Promised Land, we will encourage him".