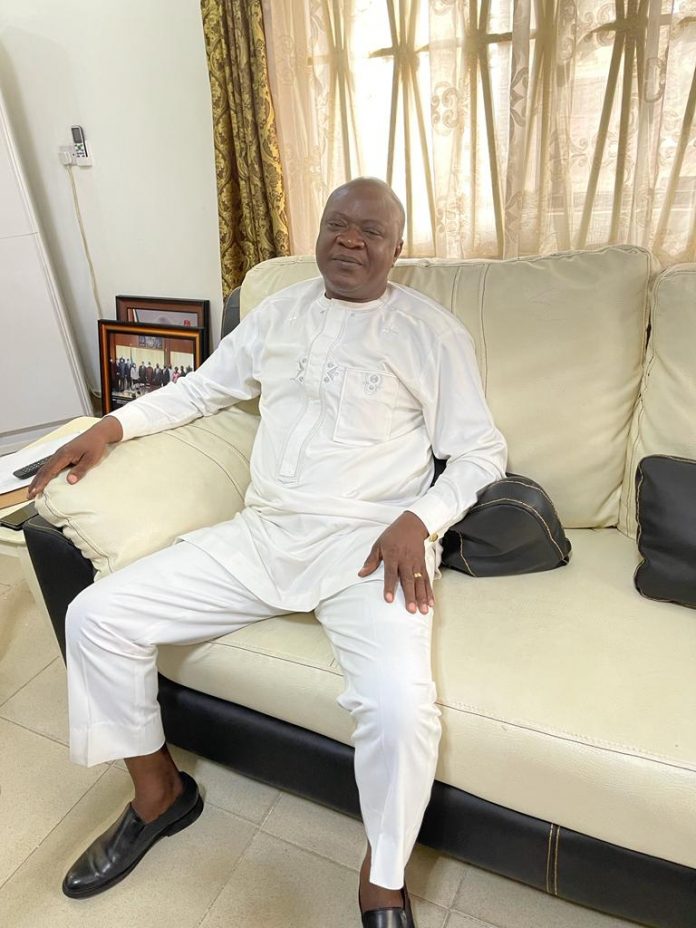 The Majority Leader and Member Representing Isoko South 2 in the Delta State House of Assembly, Hon (Chief) Ferguson Onwo has accepted calls by constituents that he seek reelection into the State Legislature.
Addressing newsmen in Asaba, Hon Onwo who is the Chairman, Assembly Committee on Information, commended the over five hundred constituents, representing different interest groups who gathered last Sunday at Olomoro to appeal to him to run for the 2023 Delta Assembly election.
He also expressed gratitude to them for putting resources together to purchase the Expression of Interest and Nomination Forms for the electoral contest, stressing that the development was a reflection of the extent the people had appreciated his efforts in providing quality representation in the state legislature.
"My people are happy with me and had asked me to seek reelection into the Assembly. They have also gone further to collectively raise the money for purchase of the forms for the election. My gratitude knows no bounds and I want to use this opportunity to tell them that I have yielded to their call and I am in for it.
"Our score card is there. The projects are visible across communities in the constituency. These constituents were saying, sir, we have seen all you done in your short period of office as a legislator. We have visited your projects and we can testify that you have done very well. Pls, we want you to go back and continue your efforts to better the lots of our people.
Hon Onwo who listed some of the projects executed particularly in the education sector, said more would be achieved as the zeal to add values to lives of constituents and development of infrastructure remains his priority in politics.
"In my constituency, I promise my people effective representation. I told them I am going to be in touch with them at all time, and midway into the first year I did Constituency briefing for them to know what I have done and intend to do. In that briefing, I told them a number of projects that I have done. In the first year, I did about 12 projects in my constituency, most of them were domicile in education sector.
"But before then, I didn't wait for government, as I went ahead to send 38 of my constituents to Dual Resourcing Institute in Odi where they were trained for various programs, some went for fish farming, plantain, piggery, nailery, and mushroom production, graduated and given certificate. The ideas behind it is to have constituents who are trained farmers, who thereafter were given starter packs, those in fishing, we gave them 1,000 fingerlings and feeds.
"Yesterday, someone told me of one of them into mushroom, that he signed a contract with somebody that each mushroom he produce, he buys. Right now he is even struggling to meet up with the target . These are the kind of things I did so that some of them are entrepreneur of their own. Some people have also given report that they are feeding from the business. I did this in my early one year in office to ensure that my promises in the campaign were fulfill.
"I also did alot of projects in the first year and in the second year. This year, I sited 6 projects, every community has a project, some have more than that. You see in this three years, every community has more than 3 projects , some have more than 5 projects but the least that can go in any community is one project and these three years, each community has three projects and there are other government projects that cut across these communities.
"There is Yanga Market-Aviara road, a road that cuts across two constituency and again we have Olomoro internal roads. We did a lot in the Ministry of Education and also in the Ministry of Works. Personally, I did flood mitigation in some communities ravaged with floods where some roads were cut into two. I personally did that in Igbide, Umeh. So haven done all that I am happy that my constituents are happy with what I have done.
"And flowing from that last Sunday, my Aides and some of my constituents and leaders conveyed a meeting in which they said that they have viewed my antecedents and projects that I have done that I need to be re-elected. I thought it was a meeting of very few persons but at the end of the meeting they were about 500 that converge to say 'Honourable we have seen what you have done in all the wards'. I didn't conveyed the meeting, they did to say my achievements are pronounced and therefore we think you should be re-elected. As if that was not the end, some stood up that they have even contributed money in which to buy form for the re-election, as they want me go back to continue with the good representation.
"I viewed that seriously and I had told them I will look into it and get back to them. I think I am convinced that they didn't do the wrong thing by urging me to re contest to finish what I have started and I believe it will not be morally right for my constituents to bring out money to buy form for me and I said no. In fact the money they contributed can buy more than one form, so haven viewed all that, I think the right position to take as a politician who is love by his people is to say that I will re contest to come back to the House of Assembly to do the job I have been doing in which my constituents urge and join me in continuity for them and also for myself.
"So on that note I wish to inform them through this medium, those who urge me by counting the projects I have done in the Constituency, that I will re contest to continue with what I am doing and also those who raised money financially to see that I purchase form to be able to come back to the House to do that which they have urge me to do. I will not disappoint them and I use this medium to thank them. I am also thanking leaders of the party for being peaceful. Those in the field, there is nothing like fighting. I like the method they are going about in campaign and also urged them that I will join them in the campaign in quest for a second tenure", Onwo stated.
Continuing he emphasized "I am one of the persons who believe power belongs to God and at every point in time, God raises leaders. Like you rightly said I didn't come to the House as a principal office holder. My special prayer is let that grace continue to be in all we do and it is a promise I have made to my people not to disappoint them. There are a number of times, I have invited you for a program in my place. Going forward, I will invite you soon to unveil a booklet of 62 pages which is my Scorecard, all the things I have said will be documented in pictures. I will unveil it to further compliment what the people are saying, it's not just words of mouth but the pictures will speak loudly on the things I have done, so I will stick by my people at all time".
On the 2023 general elections , the Lawmaker encouraged constituents to get their voters card as it is their power to vote and choose their leaders.