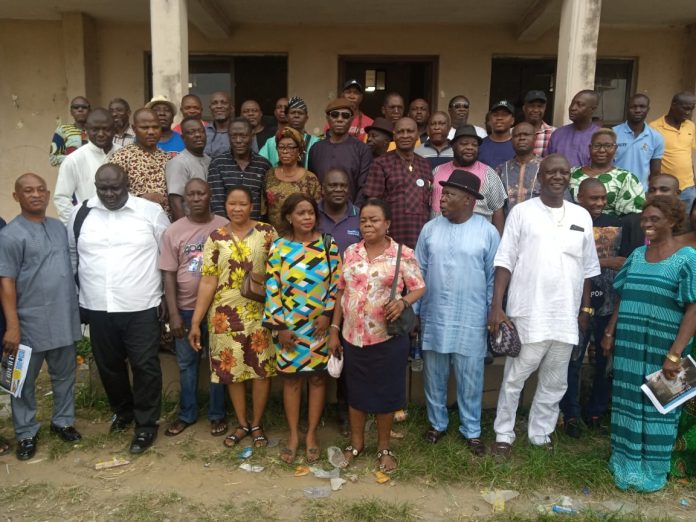 By Stephanie Ikanone Odiete
The President General of Urhobo People Integrity Organisation, UPIO, Dr Ebenezer Okorodudu on Thursday March 24th, 2022 has said that despite the laid back attitude of some Sapele leaders over the restoration of the Second Sapele constituency, and the hiccups they are experiencing, the forum will continue in it's fight to reclaim the constituency.
Dr Okorodudu who was speaking at the Second Sapele State constituency leadership meeting convened by Hon Felix Anirah, member representing Sapele in the Delta State House of Assembly at the Amukpe Community hall in Amukpe Sapele, Delta State said, UPIO was determined to get what belongs to the body, adding that the second Sapele Constituency House of Assembly seat will make it the 30th House of Assembly seat for the House to be properly
constituted.
Dr Okorodudu while thanking Hon Felix Anirah for organising the meeting said "we are fighting this fight and we know we will get there because the journey of a thousand miles begin with a step and we have gone far, very soon we will arrive there and an election will be held in this Constituency"
While commending the Orodje of Okpe, His Majesty Major General Felix Majakperuo (rtd) Orhue 1, for his support over the years, Okorodudu narrated how the body went to court in 2013 and how they won the case at the federal high court, and the appeal by Independent National Electoral Commission, INEC, against the High court judgement, and how the cases were dismissed insisting that the Delta State House of Assembly won't be properly constituted if Sapele second Constituency that makes it the 30th is not included.
A source who spoke to Sapele Mirror Newspaper on the issue of Sapele Constituency 11, said that leaders have been very committed to the cause of having a second Sapele Constituency, he further reiterated how the likes of Chief Charles Ufuoma Obule, Chief Felix Anirah, Hon Austine Ayemidejor, Chief Julius Eyetan Egbedi, Chief Eugene Inoaghan, Chief Ejaife Odebala, Chief Efe Afe and other leaders have been funding the case from Federal High Court to Appeal Court and he believes will continue to fund it to Supreme Court until the desired result is achieved, he noted that these leaders and a few others have continued to devote their time and money just to ensure that Sapele gets a second constituency.
He further noted that he believes that some of the leaders could not attend the meeting because it was slated on a Thursday which happens to be a working day for many, and not because they were not interested in achieving a positive result in a cause which they have invested so much in. He further advise that meeting of such importance should be convene on a weekend so as to give all Political Leaders and stateholders the opportunity of attending rather than fixing such meeting on a working day.
Dr Patrick Akamovba, Chairman Sapele Okpe Community suggested that a WhatsApp group should be created for the purpose of Sapele Constituency 11 project to enable all stakeholders in Sapele participate irrespective of party affiliation. He added that more funds could be raised and added to the ones contributed by leaders as it will help to facilitate the process of achieving more positive results.
The Convener, Hon Felix Anirah, thanked the UPIO for their effort adding that the issue was long overdue "I am sure getting to the supreme Court, we will obtain judgement within a year" while noting that soon he will call for a stakeholder meeting to discuss the way forward so as to achieve a positive result from what they have started on how to get the Sapele second Constituency.
Others who spoke at the event urge the communities involved to be more proactive adding that the battle for the second Sapele Constituency was a battle for the future of the children.
Those who attended the meeting include Chief Godwin Daddy, Chief Mrs Margaret Unukegwho, Mr Richard Randy Okotie, Dr Patrick Akamovba, Hon Festus Pemu, Chief Austin Atiti, Hon Jimmy Eta, Hon Francis Okpigben, Hon Goodluck Arimitan, Hon Richard Ogirisen, Hon Nasiru Ado, Mr Dennis Odebala and a host of other community leaders.