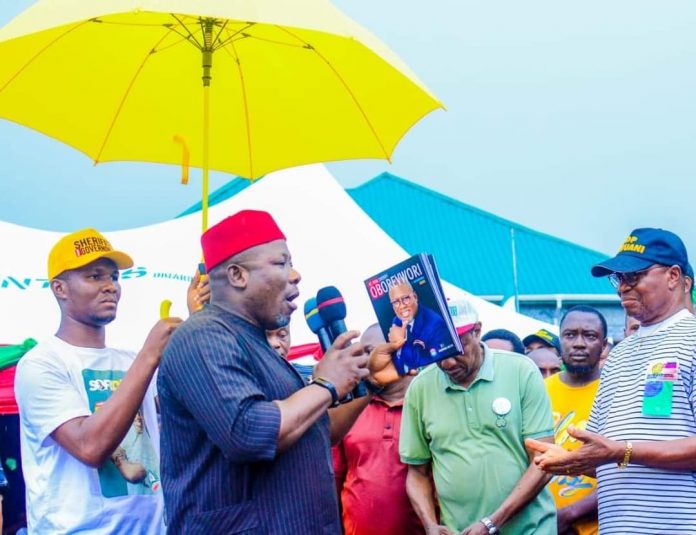 By Fred Latimore Oghenesivbe Esq
#sheriffiedmedia
Governor-in-waiting and Speaker, Delta State House of Assembly, Rt Hon Chief Sheriff Oborevwori, JP on Friday 1st April, concluded political consultations to Delta North Senatorial District with endorsements galore flowing from the leaders and delegates of the Peoples Democratic Party, PDP.
Oborevwori was accompanied by political leaders, senior government officials, youth and women as well as sheriffied groups from the three senatorial districts; North, Central and South with Chief Tony Uzor, Chief Iduh Amadhe and Chief Solomon Arenyinka as Sheriffied anchor personalities.
In Ndokwa East, Oborevwori assured party leaders and delegates of his total commitments to develop the three senatorial districts on equal basis, operate open door policy wherein party and community leaders, stakeholders, women, youth and students will have inputs in governance, saying that the all inclusive leadership style of incumbent governor, Senator Dr Ifeanyi Arthur Okowa, will be adopted wholesomely to fast track overall development of the state
He said his MORE agenda ensures continuity in governance; to complete all uncompleted projects of this administration, if any, expand the scope of socioeconomic and infrastructure development, increase funding for job and wealth creating so that our teeming youth and graduates will leave the already congested job market and join the league of other young entrepreneurs already empowered through YAGEP, STEP, RYSA, GEST and other economic prosperity programmes established by Okowa administration.
He urged delegates to see themselves as partners in progress with him in the incoming administration by voting enmass for SHERIFF at the party primaries, saying that a vote for SHERIFF is a vote for; Meaningful Development, Opportunity for all Deltans, Realistic Reforms, Enhanced Peace and Security in Delta State (MORE Agenda).
Oboreveori described governor Okowa as the pragmatic and consummate leader of the New Stronger Delta where governance is focused on the wellbeing of the people, infrastructure and socioeconomic development, adding that the New Delta is characterised by massive roads construction, building and equipping of schools, caring for senior citizens, widows and indigent students in the state.
He further posited that MORE Agenda of the New Stronger Delta stands for; jobs and wealth creation continuity, quality and affordable health scheme for all Deltans, empowerment for youth, adequate vocational training and empowerment of people living with disabilities, gigantic projects like the Obi Prof Chike Edozien State Secretariat, Stephen Keshi International Stadium, mega Independent Power Projects, IPP and so on and so forth.
He said governor Okowa has been his political and leadership mentor spanning over a decade, and that it was only fair for a graduating student of Okowa Political Philosophy to step into his big shoes in the person of Sheriff Oborevwori, the name to vote for at the party primaries.
Responding, leader of Ndokwa East and political tactician, Chief Godswill Obielum said Oborevwori's consultation visit is regarded by Ndokwa people as mere formalities to fulfil all righteousness because Ndokwa had already accepted him as Governor Okowa's successor and Governor-In-Waiting.
The train anchored at Ndokwa West Local Government Council Secretariat where party leaders and delegates reaffirmed Ndokwa Nation's delegates block vote for their Principal, Rt Hon Sheriff Oborevwori, JP.
While introducing Oborevwori to the good people of Ndokwa West, immediate past President General of Isoko Development Union, IDU, Chief Iduh Amadhe disclosed that the incoming governor of Delta State, Rt Hon Oborevwori was elected Councillor and Supervisory Councillor in 1996 under the Zero Party system and have over the years advanced in politics and in leadership to the envy of his detractors.
Iduh, who spoke in English and Ukwuani languages said Isoko nation in Delta South have wholesomely endorsed the candidacy of Oborevwori hence no Isoko son or daughter will aspire to be governor in this dispensation, adding that power will go to Delta South in 2031, in line with the second leg power rotation arrangement within PDP family.
Oborevwori while thanking Ndokwa West people for the overwhelming reception accorded him, disclosed that his five years tenure as the longest serving speaker in the state attest to his leadership style of all inclusiveness, transparently, honesty, prudent management of resources and above all, adhering strictly to the principles of equity, fairness and good conscience in all official matters.
"If I can effectively and efficiently manage 28 legislators who are astute politicians representing the entire state for over five years without impeachment and no embezzlement of funds, then I can manage the affairs of Delta State effortlessly, coupled with the practical experience that I have gathered from my leader and mentor over the years, Senator Dr Ifeanyi Arthur Okowa," he said.
At Ukuani LGA, the reception was like a thunder storm. The heavy down pour of rain could not stop Ukwuani people from demonstrating their love and acceptance for their in-coming-governor, Rt Hon Sheriff Oborevwori, JP.
Ukwuani nation went agog, several big time ceremonial masquerades were on colourful display in honour of who the people described as "Governor Okowa's successor," Oborevwori. It was a beauty to behold. The Ukwuani traditional drum beats and ballads engulfed the arena, laced by the superlative display by the beautiful and attractive masquerades.
I have never seen such display of love in my over two decades of monitoring pre elections political consultations from Edo to Delta States. It was indeed the highest honour for any meaningful governorship aspirant on consultation to Ukwuani nation, and I stand to be corrected.
Our Sheriffied and highly elated Principal, Rt Hon Sheriff Oborevwori could not hide his amazement and almost broke down in tears of joy. It was a huge crowd that cut across all segment of society at the venue for rounding up Delta North consultation visits, Ukwuani Local Govt Council Secretariat.
You ought to be there to see the mesmerising dance steps displayed by Ukwuani women, ladies and girls. It was awesome. The masquerades dance group gave good account of themselves. The love for Sheriff was transparent. It was obvious that Sheriff Oborevwori is truly popular and generally accepted by the people.
Oborevwori turned to Chief Fidelis Tilije, the Okenmor and Political leader of Ukwuani nation, and sincerely expressed his appreciation and gratitude for the love showered on him and his entourage by the party leaders, party faithfuls and delegates.
He promise to bring massive development to Ukuani nation and across the three senatorial districts, if voted party candidate and subsequently governor of the Delta State in 2023.
Mr Speaker handed over the copies of his MORE Agenda containing policies and programmes for the state, to the Ukwuani LGA PDP chairman, and in the same token urged delegates to vote SHERIFF at the party primaries so that the excellent achievements of governor Okowa can be sustained and improved upon by his administration from May 29, 2023.
The Sheriffied Consultation Team comprising over two thousand assorted brands of SUVs and exotic cars anchored at Chief Okenmor Fidelis Tilije's Villa in Ubiaruko for dinner and masterclass entertainment.
The Honourable Commissioner for Information, Charles Aniagwu and his Youth Development counterpart, Ifeanyi Egwunyenga were on hand to assist Chief Tilije and his political family to adequately care for the Sheriffied Team.
While welcoming the Sheriffied family to his villa, Chief Tilije, the Okenmor of Ukwuani Kingdom said, it was home coming for Rt Hon Sheriff Oborevwori in Ukwuani nation because "we have long concluded that our delegates shall vote for him at the party primaries.
"It shall be block vote from Delta North Senatorial District as confirmed by the other leaders. Ukwuani is home for our principal, Rt Hon Sheriff Oborevwori, anytime and anyday. Whatever assistance or anything he requires from Ukwuani nation he shall surely get or receive effortlessly.
"I am confident that delegates across the three senatorial districts in the state will vote enmass for Mr Speaker at the primaries. He is the best among his equals in terms of forthrightness, sincerely, humility and competence.
"Therefore, there is no doubt whatsoever that our principal and governor-in-waiting, Rt Hon Sheriff Oborevwori is the true choice of Deltans, and like we say in the Sheriffied family, Look no further, be SHERIFFIED.
"Sheriff Oborevwori is the real DEAL," Tilije added.
Prominent leaders that accompanied Rt Hon Oborevwori and who were present at the final leg consultation visit to Delta North include; Chief Godswill Obielum, Chief Fidelis Tilije, Chief Monday Onyeme, Chief John Oguma, Chief Patience Okwuofu (Mother of Government), Chief Tony Uzor, Chief Solomon Arenyinka, Chief Iduh Amadhe, Rt Hon Evelyn Oboro, State Commissioner for Information and his Youth Development counterpart, Hon Charles Aniagwu and Hon Ifeanyi Egwunyenga.
Also in attendance are; Hon Charles Emetulu and members of the State House of Assembly, Local Government Chairmen, Councillors, party chairmen, Councils Chairmen led by the State ALGON Chairman, political pressure groups from across the three senatorial districts, former Desopadec Commissioner and Executive Assistant to the Governor, Hon Nnnadi Ezeachi, Executive Assistant to Delta Governor on Communications, Chief Dr Fred Latimore Oghensivbe Esq, Senior Special Assistant to the Governor on Political Matters, Hon Hope George and others too numerous to mention here.