Ahead of the 2023 general elections, Majority Leader and Member Representing Isoko South 2, at the Delta State House of Assembly, Hon (Chief) Ferguson Onwo KSC, has assured of more quality representation for the constituency as he seeks reelection into the State legislature.
Onwo who, at the public presentation of stewardship documented in a 61 paged book that contained pictorial, locations and details of projects and programs executed within less than three years as a Member of the State Assembly as well as projections for the future, said another tenure in office will usher in a new level of infrastructural revolution and human capital development in Isoko South 2 Constituency.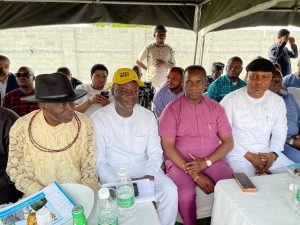 The Lawmaker, who is also Chairman, House Committee on Information and Deputy Chairman, Committee on Special Bills, stated that so much was achieved in attracting the dividends of democracy to the constituency in just two years and ten months in the Assembly.
"In less than one year after I assumed office, I presented my scorecard, following several interventions made immediately I was sworn in. I wanted to be doing that regularly but for Covid-19, End-SARS protest, legislative autonomy issue and some other that disrupted socio-economic and political activities nationwide. A lot has happened since then and even as I am always at home with my people, today's event is also in fulfillment of promises made to always bring constituents together to brief them on what we have done and also project into the future".
Reeling out his score card during the period under review, Onwo stated that quality representation, development of infrastructure, employment opportunities, Women and Youths empowerment and several other socio-economic programs, have been the hallmark of his stay in the Assembly since June 2019.
The Majority Leader explained that the projects were mainly on road construction and rehabilitation, flood remediation, drainages and interventions in schools infrastructure, amongst which were those captured in the 2020, 2021 and 2022 constituency projects and others, some of them executed with private funds.
According to Hon Onwo, the projects as well as beneficiaries of the programs which includes the training of 38 constituents on Skills Acquisition and Entrepreneurship at Bio-Resources Development Centre, Odi, Bayelsa State, and the engagement of 54 aides were spread across the six wards that make up Isoko South 2 constituency.
"In the score card being presented to you today, you will see details of executed projects in Olomoro, in Aviara clan, in Igbide clan, in Enwhe, in Umeh- Erhowa and in Uzere. The projects are there for verification. You will also see list of Constituency Projects for this year, 28 of them across the six electoral wards, all domiciled in the Education sector. We are making progress and we will continue in that regard".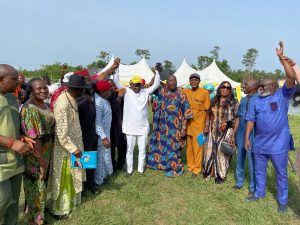 The Majority Leader paid glowing tributes to Governor Ifeanyi Okowa on his development strides in Isoko nation and other parts of the State, saying that his support has been very tremendous.
The Lawmaker also expressed happiness over effective collaboration with critical stakeholders in the development of Isoko South 11 Constituency, stressing that more support was needed in his commitment to raising standard of lives and infrastructure in the locality.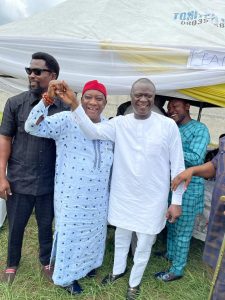 The Majority Leader emphasized that his reelection to the State Legislature will further promote peace, unity and greater development in the entire Isoko nation and appealed to PDP leaders, elders and delegates to help ensure his victory at the upcoming party primary for State Assembly.
"I was invited here two Sundays ago by a large number of constituents who informed me that they had resolved that I seek reelection into the State Assembly to continue with the good work I am doing in Asaba. I told them that I was still consulting but they said it was a resolution reached after wide consultations. They also informed me that some of them had contributed the money to purchase the forms for the election. I was overwhelmed by their action and last Monday they followed me to PDP Secretariat in the State capital to collect the forms. Collectively we have achieved much and with your support, more will be achieved for our constituency", Onwo stated.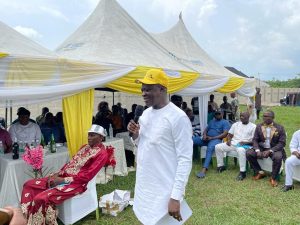 The State Commissioner for Oil and Gas, Prince Emmanuel Agbadugba, Commissioner for Finance, Chief Fidelis Tilije, Chief Iduh Amahde of Isoko nation and others, including Hon Silver Awase who spoke on behalf of the Councillors, Party leaders, elders and a representative of each of the six wards in the constituency, appreciated the quality services Hon Onwo is rendering to his Constituency, Isoko nation and the State at large, saying that the Lawmaker has proven to be a worthy ambassador of the people.
They said the Constituency does not need a neophyte but a sound legislator that has the wherewithal to navigate the ship of progress in Isoko South 2, saying that Ferguson Onwo fits in, in all ramifications.
PDP Chairman, Delta South Senatorial district, Chief Julius Takeme, who described the Majority Leader as a pride to the Senatorial district, enjoined him to continue to make the Party proud and commended the leaders, elders and youths of the Party in the constituency for their support.
"I am a Party man. As a father to all, I am promising free and fair contest in the Party's primaries. But permit me to say publicly that Hon Ferguson Onwo is a good man. He is hardworking, focused, meticulous, and a goal-getter. As a Majority Leader, he represents the Party in the Assembly. He has been a rallying point for all other legislators from the Senatorial district. He has represented the Party very well and I encourage him to continue with the quality representation. I also commend all of you for supporting him and the Party. I will convey what I saw today to my boss when I return to Asaba. It was a great day and I thank Hon Onwo for making the Party proud".
The highpoint of the event was the passage of Vote of Confidence and the Adoption of Hon Ferguson Onwo as the PDP candidate for the 2023 Delta State House of Assembly election for Isoko South 2 Constituency by the Party elders, leaders and faithfuls.
The Member representing Patani Constituency in the State Assembly, Hon Sinebe, PDP delegates, several Party leaders, Women groups and a cross section of people from Isoko South 2 Constituency, attended the ceremony held at Olomoro, Isoko South local government area.