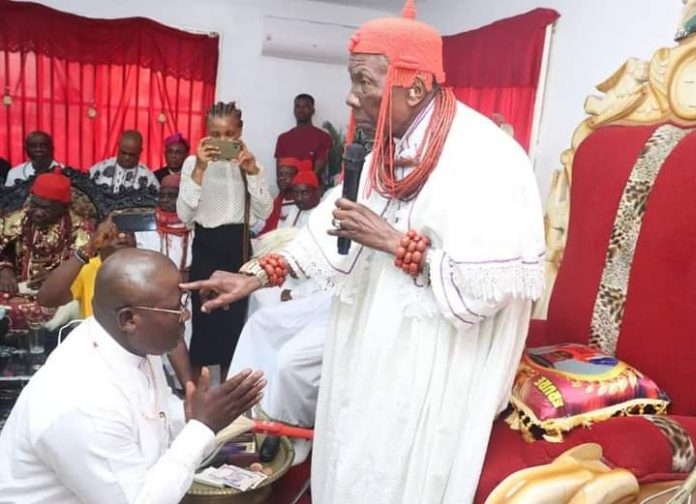 By Fred Latimore Oghenesivbe
The candidacy of front line governorship aspirant who is largely acclaimed to be the crown Prince of Osadebe House Asaba, Rt Hon Sheriff Oborevwori, has been signed, sealed and delivered.
Urhobo Council of Traditional Rulers on Monday April 4 at the palace of the Ohworode of Olumu Kingdom made consolidated and specific pronouncements, anointed the Sheriffied crooner himself, Rt Hon Sheriff Oboreveori, JP, obviously signaling the end to the search for governor Ifeanyi Arthur Okowa's successor in 2023.
Bible students will recall that a similar scenario played out when Prophet Samuel went to the House of Jesse on the firm instruction of God, to annoint a king for Israel.
The sons of Jesse were interested in the kingship and gathered around their father, handsome and good looking young men; very eloquent in grammatical construction and with global international banking experience, some of them were successful industrialists, career civil servants, astute politicians, tenderer of flocks, and so on and so forth.
Prophet Samuel almost pointed his index finger at one of them, very handsome and cute but God said "not these ones." Samuel asked Jesse if there was any other of his sons who was not present, and he said "Yes. His name is David, he is tendering my flocks."
Prophet Samuel went after David where he was taking care of his father's flocks, and God said "this is the King, lay your index finger on him and anoint him." Young but brave David was anointed King of Israel on the spot by Prophet Samuel based on divine instruction. And David grew in power from that day forward.
The same scenario reared its beautiful head at the Palace of Ohworode of Olumu Kingdom, when the oldest traditional ruler in Africa and Chairman, of Urhobo Council of Traditional Rulers, His Imperial Majesty, Canon Dr Richard Ogbon, Ogoni-Oghoro the first, stood up, pointed his index finger at Rt Hon Sheriff Oborevwori (the chosen one) at a close range, made decisive royal declarations and anointed him as the Crown Prince of Osadebe House Asaba.
One after the other, Urhobo Royal fathers laid hands and immaculate traditional staff of office on Oborevwori. They prayed, asking God and Urhobo Nation ancestors to crown his governorship ambition with superlative success.
Some Church leaders in the caoacity of Bishops and Archbishops of Urhobo extraction were also present. They made prophetic declarations over Oborevwori's secured governorship candidacy, suggestive of divine confirmation as the next governor of Delta State, come 2023.
The consultation turned out to be a glamorous event that look like a coronation ceremony of the governor in waiting, Rt Hon Oborevwori, the Ukodo of Okpe Kingdom and National Deputy Chairman, Conference of Speakers of State Legislatures of Nigeria.
Royal servants at the Palace of Ohworode of Olomu were seen talking in low tones saying;
"This ceremony is loaded with several activities in one. This is certainly the climax and the end of the governorship selection process in Urhobo Nation, in this dispensation.
"This man, Oborevwori, is obviously our next governor. It is Crystal clear from the kind of things happening here, and the heavy weights of royal utterances through prayers."
My take? The coast is very clear. Join Oborevwori's campaign train and thank me later.
Look no further, get SHERIFFIED.