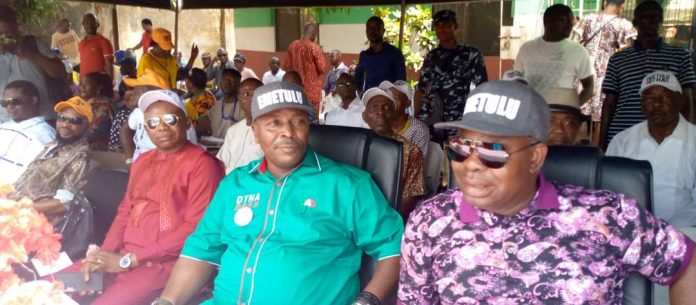 The member representing the Ndokwa West LGA constituency at the Delta State House of Assembly, Hon. Charles Emetulu has advanced the reason why he invest in education sector.
Speaking in Kwale, the headquarters of Ndokwa West Local Government Area, during his declaration for second term, the lawmaker said he chosed to invest his constituency projects on education sector because it is the only sure way to guarantee ones future.
Emetulu who is the Chairman House committee on Education highlighted his achievements with pictorial evidences on projects he has successfully executed both on constituency projects and those attracted from his position as chairman House committee on education.
The lawmaker expressed gratitude to the Constituents, party faithful for the support he had received over the period and urged them to remain steadfast as we collectively build the Ndokwa of our dream saying; "I invest in education because it is our future, if I'm not educated, I'll not be standing here to talk to you and with education you can also rise."
"We are building a stronger base for our people and we give ears to the yearning and needs of our people. May God continue to strengthen us to do more. Some of my projects include; construction of a brand new 6 blocks class rooms in Oliogo secondary school, Umuseti , Utagba-Uno, renovation of 6 class room blocks in Okkah Primary  school, Inam Abbi.
Continuing; "Renovation of 4 blocks of science laboratories in Abbi Grammar School with equipments In Abbi, renovation of 6 blocks class rooms in Abbi Grammar school, Abbi , with chairs and tables among others."
While soliciting for the support of the delegates ahead of the next month primary he promised to continued on his quality representation and projects execution, adding that by the end of his first tenure he will add to the people oriented projects.
He equally advised party supporters to be reasonable and rational in their demands for personal needs since there are so many people with different needs to attend to.
"So many people come with one form of financial demands or the other for school fees, health care services, rents as well as others. I want you to be rational so i can be able to attend to others. In my three years in office covid19 took almost two years managing the pandemic but in spite of that i have delivered.
"I have provided employment opportunities, facilitated transfer of services for our people to the three new Universities, assisted the emergence of an Ndokwa West Professor to be appointed as Rector of Ogwuashi-Uku Polytechnic as well as Ndokwa students to emerge as DELSU SUG."
Hon. Emetulu was accompanied during the declaration by Chiefs Monday Onyeme, Kenneth Nwaomucha, Lucky Favour Ossai, Patrick Ogalanya, Bennard Odagwe amongst other personalities.
By Inneh Barth.