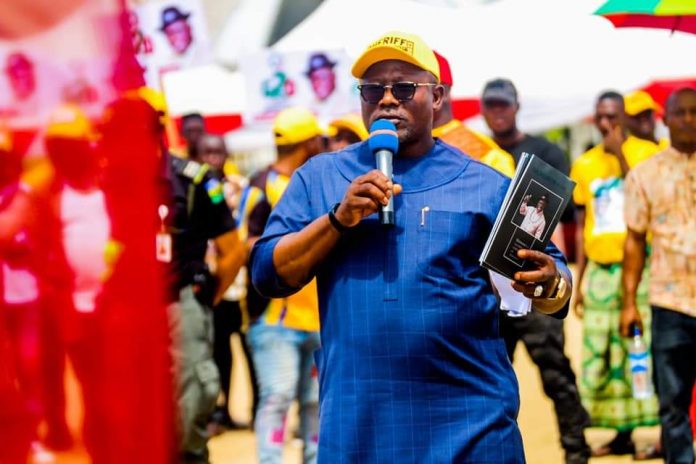 By Sylvester Imonina, Esq.
The Speaker of the Delta State House of Assembly, Rt. Hon. Sheriff Oborevwori met PDP Leaders, Stakeholders and Delegates of Warri South, Burutu, Isoko South and Isoko North Local Government Areas of the State to consult them on his intention to assume the mantle of leadership in the State, come 2023.
The frontline Aspirant who was accompanied by who is who in Delta PDP together with his teaming supporters told leaders, stakeholders and Delegates of the LGAs visited that he was one of their own, bred by them and he would not disappoint them if given the opportunity to fly the flag of the Party. In his words, "I do not live across the Sea, Abuja or Lagos but in Osubi Town whenever I am not in Asaba. Therefore, accessing me and/ or knowing where to find me will not be a problem".
Oborevwori further stated that his "MORE AGENDA" is set out to do more and achieve more for the good of all Deltans. He promised to build on the good legacies of His Excellency, Sen. Dr. Ifeanyi Arthur Okowa, Governor of Delta State.
Also, the frontline PDP Gubernatorial Aspirant was emphatic on empowerment of women, youth and Deltans who are ready to legitimately eke out a living. In his words, "my MORE AGENDA will touch all facets of live of every Deltan. The best will be achieved for Deltans if I am given the opportunity to lead the State".
In all the Local Government Areas visited, Party Leaders and faithfuls were full of praise for Oborevwori, particularly in the area of creation of synergy between the House of Assembly and the Executive for the overall good of the State. The Leaders took out time to genuinely pray for him in his political pursuit.