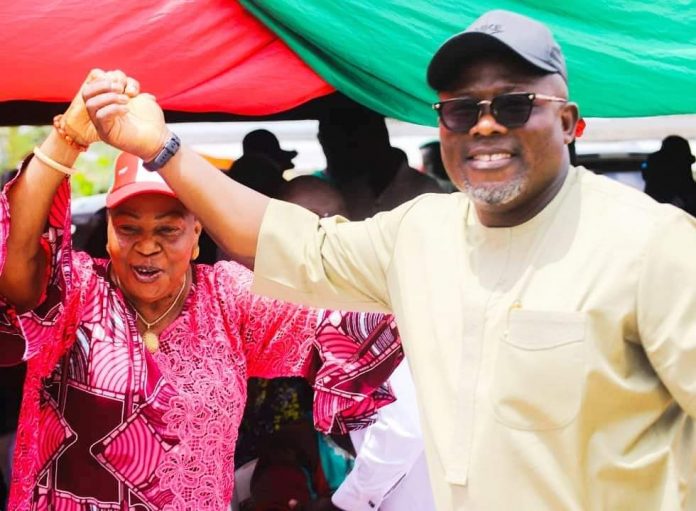 By Fred Latimore Oghenesivbe Esq
I want to state from the outset that Deltans preferred governorship candidate of the Peoples Democratic Party, PDP, Rt Hon Sheriff Oborevwori, gave good account of himself in all the Local Government Areas visited to solicit the support and votes of party leaders and delegates.
As at Thursday 14th April 2022, the Sheriffied team covered twenty four (24) local governments and the final LGA to be consulted in the next couple of days will be Okpe. Okpe is Mr Speakers political constituency and it shall be a mega rally cum consultation of leaders and delegates. The team intends to make it elaborate, colourful and superlative. You don't want to miss it!
Oborevwori was at his best throughout the consultation visits and spoke excellently well to the delight and admiration of everybody. He dwelled extensively on his M.O.R.E agenda centered on; Meaningful Development, Opportunity for all Deltans, Realistic Reforms and Enhanced Peace and Security.
He disclosed that M.O.R.E agenda will further accelerate socioeconomic and infrastructure development of Delta State, enhance social harmony and well being of the people, raise the stake in agriculture, health care, Independent Power Generation expansion, qualitative education, more roads and sports infrastructure development, industrialization based on public-partnership arrangements, incentives for local and foreign investors, Urban Renewal expansion including further development of Asaba Capital Territory and major cities and towns across the state, expand Okowa administration job and wealth creation programmes, as in YAGEP, STEP, RYSA, Project GEST, et al.
Mr Speaker also emphasised the need for sustainable peace building; and that as a Unifier his administration will be people focused, people friendly, an open door policy, accountability, transparency and absolute respect for elders in the state, party leaders and constituted authorities across board in all inclusive government.
He was extremely passionate about Advancing Delta and to make it economically viable and prosperous through meaningful development, if elected governor in 2023.
The Sheriffied Consultation team led by the amiable Mother of Government, Chief Nkem Patience Okuofu and construction giant, Olorogun John Oguma, grew by the day. No road accidents recorded and no petty squabbles. It has been peaceful and very successful. To God be the glory.
Rt. Hon Oborevwori, occasionally talked about his personal affiliation or political relationships with certain prominent Deltans in some of the LGAs visited, and promptly admitted and corroborated by the party bigwigs themselves. He truly knows the political terrain and his extensive contacts across the state attest to his popularity and acceptance.
The Sheriffied Team was consistently hosted by party leaders and chieftains at their partial homes after the day's activities. Mr Speaker's humility and respect for elders was visible and commendable, ensuring at all times the welfare and security of team members. His hospitality strategy was unique and exclusive.
Furthermore, Oborevwori's consultations can best be described as "semi-mega political rallies," as can be seen from the mammoth crowd per event, live bands, cultural displays, elaborate reception arrangements and huge attendance by party leaders, delegates and chieftains of PDP.
The team convoy at the last count was over 2,000 vehicles with party leaders and supporters from the three senatorial districts. There is discipline and order in the team. To give God the glory.
And in Uvwie, Mr. Speaker took his audience down the memory lane and did say Okpe and Uvwie LGAs are one big and united family. He said Alaka community is an integral part of his early life because he once lived there and also attended Alegbo Primary School in Uvwie.
Oborevwori neither said he attended Urhobo College as erroneously reported in one of the social media platforms nor said he was next in command to late Friday Ani of Uvwie. Available records revealed that Late Friday Ani was active in Uvwie politics until his demise, while Rt Hon Sheriff Oborevwori held sway in Okpe politics from 1996 till date. Their mindsets, lifestyle and worldviews differs immensely.
The social media report quoting Mr Speaker to have said he attended Urhobo College was also not correct; a mischievous distraction, ill conceived and obviously calculated to misrepresent facts in the eloquent speech of Oborevwori on 12th April, 2022 during Uvwie LGA consultation engagement. Those who attended Uvwie consultation meeting attested to the fact that Rt Hon Oborevwori did not say such things and had no reason to be immodest.
It has been observed that the rising profile of Mr Speaker in the governorship race is daily causing acute panic and frustrations for promoters and supporters of unpopular aspirants. This is the reason why his detractors are quoting him out of contexts and also indulged in all manner of character assassination, black propaganda and malicious publications. Unfortunately for them, Deltans are already Sheriffied and victory is sure, come 2023.
As you read this piece, Delta State is YELLOW for Sheriff Oborevwori. There is massive Sherification in Delta, sweeping across the three senatorial districts like a hurricane and penetrating deeply into twenty five local government areas.
And as the Sheriffied Tean rounds up Consultation of PDP leaders and delegates in Okpe, in the next couple of days, we shall await the victory of the most preferred governorship candidate, Rt Hon Sheriff Oborevwori, JP, the Ukodo of Okpe Kingdom.
Look no further, be SHERIFFIED.