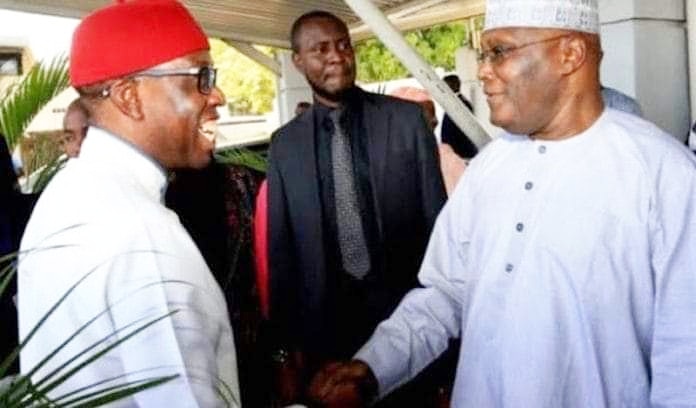 By Barth Ozah
In a lamentation to his wife, the first US Vice President, John Adams, had described the Vice President office as "the most insignificant office ever the invention of man contrived."
However, the choice of a running mate could make or mare a candidate. In Nigeria the choice of a running mate is as important as the candidate itself. In chosing a running mate critical analysis of the individual involved and situation on ground must be carried out. If it was easy the rulling All Progressive Congress APC, could not have been in a similar condition akin to 2015 general elections.
But, the reverse was the case for the PDP who in a seamless manner has identified a man suitable for the exalted  position. The choice of governor Okowa was not just suitable but strategically aimed at service delivery.
Given further explanation on his choice of running mate, the Presidential Candidate of the Peoples Democratic Party in the 2023 general elections, Alhaji Atiku Abubakar, said Governor Ifeanyi Okowa of Delta State possesses qualities that is needed in Nigeria to attain its full potentials.
Atiku, who himself a former Vice President of Nigeria, in a statement made available to journalists yesterday, pointed out that, "The Governor of Delta State, His Excellency Dr. Ifeanyi Arthur Okowa and I share a lot of personality attributes in common. The first most important decision that any candidate for an executive position in a democracy must make is the choice of a running mate.
"The office of the president in particular requires that the holder of that office must have clarity of the mind on decision-making.
"That is why in countries that have acquired more experiences in democratic acculturation, the choice that a presidential candidate makes about their running mates, and how they make the decision, provides a window of assessing their preparedness for the job that potentially waits ahead of them.
"In meeting up with this expectation, and more importantly to ensure that I make a pick of a running mate that you shall be proud of, it became necessary for me to be introspective about my choice." The statement added.
Continuing; "Okowa is a fine gentleman, but tenacious. His experience as a Senator will come in handy in some of the legislative reforms that are urgently needed to reform our governmental processes.
"Both of us are incurable optimists in the future of Nigeria and the promises it holds as one united, peaceful and prosperous country.
"Having him on the ticket brings a lot of asset to our campaign. In the months ahead to the general election, together with other great leaders of our party, the Peoples Democratic Party and, with your esteemed support, we shall work very hard to ensure convincing victory for our party.
"A victory for the PDP in the general election is a victory for Nigeria. When we win, Nigeria wins."
For the same reason of rescuing this country from self inflicted pain and agony, Afenifere; Ohanaeze; Middle Belt Forum, MBF; Pan-Niger Delta Forum, PANDEF and other well meaning individuals who opposed to the choice of Governor Ifeanyi Okowa as vice presidential candidate should have a change of heart and allow reason to prevail.
The APC has ran the country aground and 2023 general elections present yet another opportunity to join forces with the PDP to rescue the nation first. That is is the task before all Nigerians.
Barth is the Councillor representating ward 7, Ndokwa West LGA.