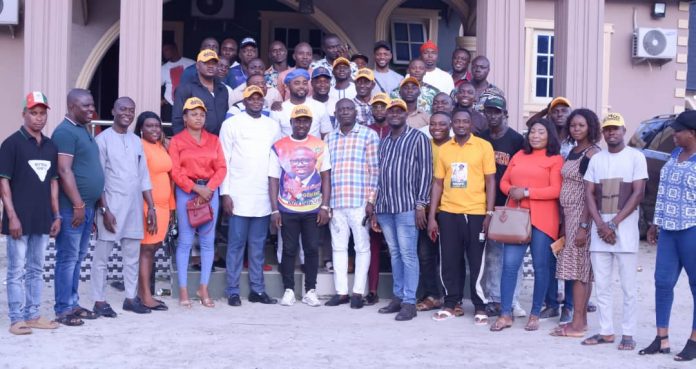 Ovu – Former executive assistant to the Delta State Governor on peace building and intelligence gathering and adviser to the MORE For Delta Youths Project, Chief Hon. Augustine Usienefe Ogedegbe J.P has tasked the foremost People's Democratic Party (PDP) pressure group, MFDYP to build unit structures across the wards in the 25 local government areas of Delta State.
He disclosed this when the group led by her director general Comr. Fred Sheriff OborevworiJnr paid him a courtesy visit at his country home in Ovu, Ethiope East local government area of Delta State.
Chief Ogedegbe affirmed that the group tenacity and thank the initiator of the project and those that aligned with it, stating that Sheriff OborevworiJnr has shown immense capacity prior the PDP primaries and still doing more to ensure that he becomes a bridge for Delta youth through this brilliant initiative.
Ogedegbe J.P went further to charge the group to be committed and focus on the task ahead by convincing people to obtain their permanent voters card and canvass support for the PDP.
" it is important you build structure especially at the unit levels and ensure that each unit is won for the PDP come 2023. This message should be spread to other states across the country so that the Atiku and Okowa's presidential mandate can be realized", he said.
"I use the medium to instate my confidence in Rt. Hon. Sheriff Oborevwori victory come 2023 in the general election poll".
"I am confident that when sheriff is sworn into office, youths will have more placement in the political system. The system now give credence and relevance to youths who ensure that their votes counts and model the party responsibly and not youths who engage in thuggery and violence. Decent youth in the state should align themselves with the PDP and plug themselves into the system of the party. I understand when youth are sometimes short change after working hard by leaders but that shouldn't deter them from showing capacity to lead because a time for their benefits is in the incoming emergence of Sheriff as governor of Delta state. They should ensure to be vigilant not to be short changed when the victory has come", he added.
The former E.A was very happy to have align with the group as an adviser and promise to give his maximum support.
The deputy director general operations Amb. Ugagaoghene Ogheneyole Enarise who represented the director general Sheriff Jnr, thank the former governors aide for receiving and accepting to advance the course of the group.