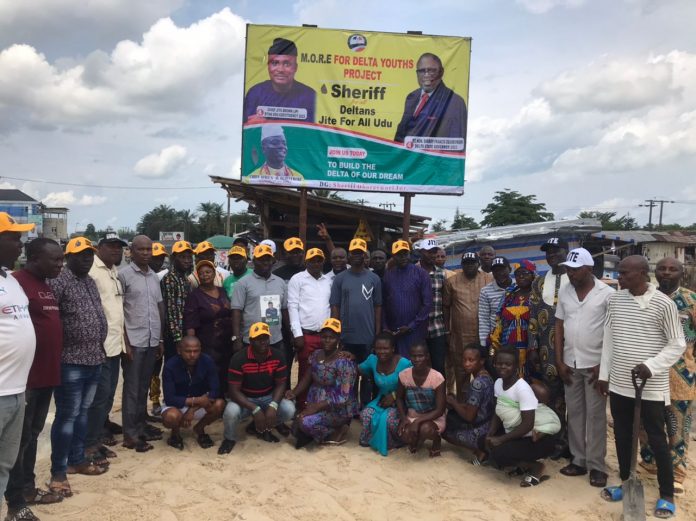 Earlier today, The Udu Ward 03 Coordinator of MORE 4 DELTA YOUTHS PROJECT Olorogun Ogbeferere O. Africa (Vworovworo Of Udu Kingdom) receives In Audience the Udu LGA Coordinator More For Delta Youths Project HON EVANG EMMANUEL OGOLO(Deputy Majority Leader Udu Legislative Arm) and the representatives of the Udu LGA Council Boss TEAM JITE to the Unveiling of MORE 4 DELTA YOUTHS PROJECT Bill Board in Udu Ward03 at the Popular/Busy Ubogo junction in Udu LGA.
The Uveiling of the MFDYP Bill Board was followed with a reception at the residence of Olorogun Ogbeferere O.Africa (Coordinator Udu Ward03 MFDYP and President General Ukpiovwin Community).
Speaking, Chief Udumaroh Segba (a representative of Team Jite) thank and Appreciate all PDP faithful present for their efforts thus far in delivering Sheriff as the PDP governorship flag bearer and Jite Brown as PDP flag bearer DTHA Udu Constituency in the forthcoming election. He therefore Urged the Ward03 Excos to strengthen the Unity among them and the Ward in general in order to score 5/5 in the forthcoming election.
He also urged all aggrieved party members to do away with their aggressions and work in Unity with the EXCO's so as to ensure all round victory in the forthcoming election.
In application, the Udu LGA Coordinator MFDYP HON EVANG EMMANUEL OGOLO thank and appreciate Chief Africa for his Proven capacity in ensuring Udu PDP Ward03 deliver 5/5 in the forthcoming election.
Present at the Unveiling ceremony were:
Hon Evang Emmanuel Ogolo (Deputy Majority Leader Udu Legislative Arm and Coordinator MFDYP Udu LGA)
Comr Rientarhe Gabriel Orueri (Assistant Secretary General Otor-Udu Community and Director Media/Publicity MFDYP Udu LGA)
RT. Hon Emmanuel Owholo (Leader Udu legislative Arm)
Chief Udumaroh Segba (Representative of Team Jite)
Hon Ernest Mereh (Udu LGA Super-Finance)
Chief Friday Orugbo (Udu Ward03 PDP Chairman)
Chief Otto (SSA to Gov. Okowa) a representative of Team Jite
Chief Obruche (representative of Team Jite)
Hon Voke Bukuta (Udu LGA Super-Environment)
Comr Samuel Dawho (Secretary General Udu LGA) and
Hon Clement Mudi and host of others that were present