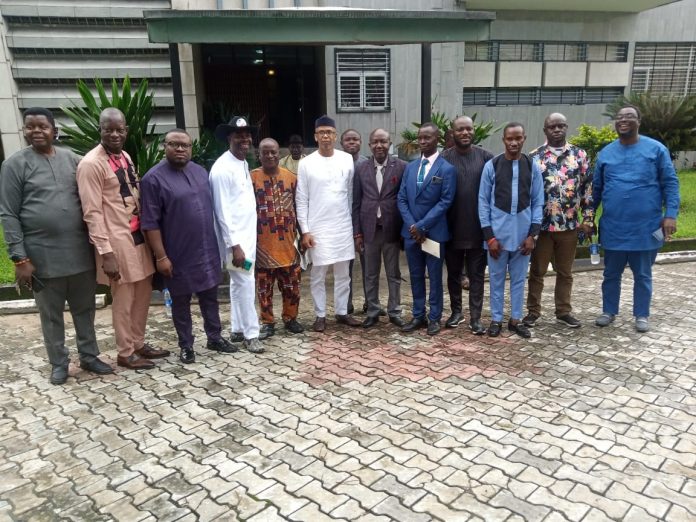 The Senatorial Candidate for the All Progressives Congress, APC, Chief Ede Dafinone played host to Delta Central APC aspirants who lost in the last primaries on Friday June 24th, 2022 at his country home in Sapele.
Chief Ede Dafinone while addressing the aspirants who turn out massively said that there was need for unity amongst all members.
In his words; I urge you all to remain committed to the APC course, the chances of the APC winning the governorship election in 2023 is higher than it has ever been. There is need for us to work together to ensure victory for all our party candidates. I want to let you know that the APC is better than it were years ago. We need to canvass voters, one vote is important and can make a difference, he said.
You may have lost the primaries today, but tomorrow you can emerge victorious, remember that God's time is the best, he added.
Barr Joseph Oshevire while responding to Chief Ede Dafinone said that he was he was indeed very elated to be part of the interactive session, while appreciating the Senatorial Candidate for taking the initiative to play host to the aspirants, which has given them a sense of belonging.
The best hand should be put in the place to pilot the affairs of the party as a way of ensuring victory for the party, he said.
Hon Aminugo Ode Williams, an immediate APC former Aspirant, for the Ughelli South House of Assembly Position in the just concluded Primaries who spoke in the same vein said that the name Ede Dafinone is a house hold name in Nigeria and that he has all it takes to win the senatorial seat in the general election come 2023.
We will collapse our structures and work for the victory of all the APC aspirants in the generation election, you have our unalloyed support he reiterated.
Engr Daniel Omamogho, an immediate APC former Aspirant, for the Ethiope West House of Assembly Position in the just concluded Primaries who also spoke during the interactive session described Chief Ede Dafinone as a prudent man who will do great as a Senator.
You have always been a man that I admired. I admire you for your prudence, I and my supporters will work for you and ensure that you emerge victorious and we will work for the party to ensure that all candidates from Governor to Senator to House of Representatives and House of Assembly emerge victorious, he added.
We are going into the general election with victory in our mind. Every leader should endeavor to win their unit to ensure victory for the APC come 2023, only the candidates cannot ensure the victory at the general election, hence there is need for all to work together, he added.