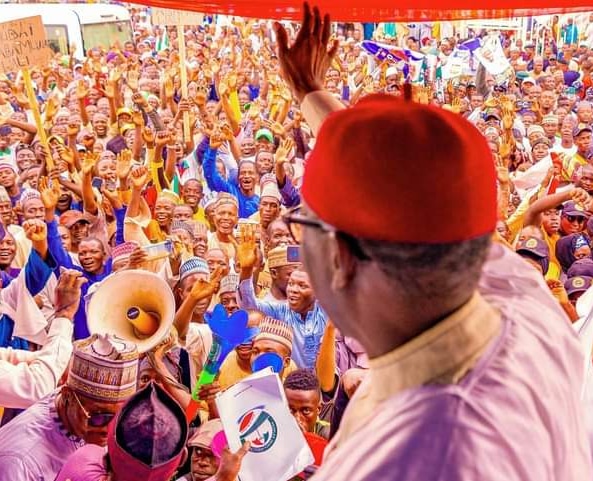 By Fred Latinore Oghenesivbe Esq
The surging mammoth crowd became uncontrollable seeing their Vice Presidential candidate in-waiting, His Excellency, Senator Dr Ifeanyi Arthur Okowa, alerting from the immaculate white jet.
It speaks of Okowa's acceptance by all ethnic nationalities in Nigeria. It was indeed a spectacular event that sent shockwaves across the political camps of the now epileptic All Progressives Congress, APC, in Northern Nigeria and across the country.
Sokoto went Agog in full blast. The political drum beats and the well calculated dance steps gingered by traditional Hausa ballads got governor Okowa swinging and bubbling with unspeakable joy and love for the good people of Sokoto State.
The true meaning of ONE NIGERIA resonated as the Northern region embraced a detribalized political leader from Southern Nigeria, Okowa. It was a beauty to behold.
The roaring crowd agreed in one accord; "We are ready to rescue Nigeria, We are ready to fix our broken country, We are ready to rebuild Nigeria badly mismanaged and substantially destroyed by APC. We are ready to make Nigeria great again."
The Tsunami like mega political reception was at the instance of the governor of Sokoto State and Chairman of PDP Governors Forum, His Excellency, Rt Hon Aminu Tambuwal Esq, a key political associate of H.E. Okowa.
The political sagacity of Tambuwal was on full scale display as Sokoto State went agog in honour of their Vice President in-waiting. It was ecstatic and heartwarming.
The Atiku/Okowa ticket is no doubt a winning collabo, proudly endorsed by the greater number of Nigerians across the six geopolitical zones. It is a unity ticket for the socioeconomic and political emancipation of our dear country, Nigeria, occasioned by acute bad governance of APC national government.
The Atiku-Okowa victory ticket seeks to address and provide permanent solutions to the vexed issues of; federalism and decentralisation of economic powers, whereby the regions controls their resources and pay taxes and other dues to the centre. Atiku/Okowa will make it happen.
The duo of Atiku and Okowa, shall promptly resolve the challenging insecurity problems that had bedevilled this nation under the APC, unite the country, rebuild the economy, repay the huge mismanaged and unnecessary debts incurred by the APC national government under President Mohammadu Buhari.
The Atiku/Okowa ticket will create jobs and wealth for Nigerians, adequately fund and manage the educational sector, so as to completely eliminate ASSU strikes, revamp the health sector and provide qualitative and affordable health care for Nigerians.
Atiku/Okowa presidency shall review the power sector and make it work efficiently and effectively, set up realistic structures and formulate policies and programmes for industrialization and inflow of Foreign Direct Investments, FDI, and many more as encapsulated in Atiku's "My Covenant With Nigerians."
We appreciate governor Tambuwal and the good people of Sokoto State, for the unique reception and superb hospitality accorded our great leader and Vice Presidential candidate of PDP, Senator Dr Ifeanyi Arthur Okowa, the governor of Delta State.
Nigerians; get your PVC ready and in 2023, Vote Atiku/Okowa for President.
#eacgovdelta