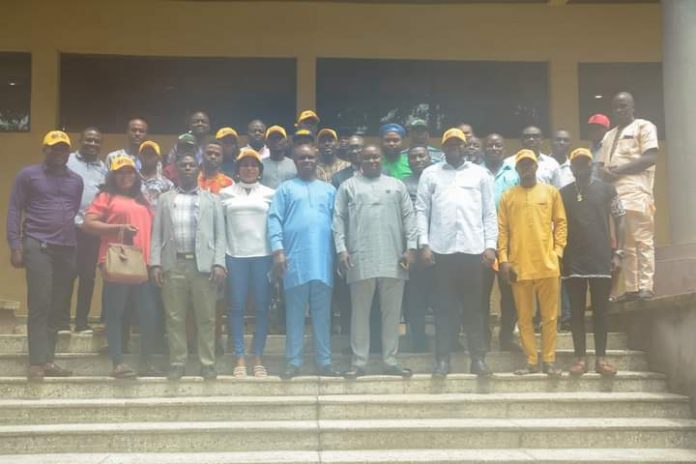 Asaba – Focal and like-minded youths with the name More For Delta Youths Project still on Political envagelism on how to deliver Rt Hon Sheriff Oberovwori for Governor Delta State and the Atiku/Okowa presidential mandate paid a courtesy visit to one of its patron Hon Isaac Omomedia, Executive Assistant to the Delta State governor on special duties in Asaba.
The deputy director general of the group Amb. Ugagaoghene Ogheneyole Enarise who stands in for the Director General Fred OborevworiJnr thank Hon Isaac for meeting with the group despite his tight schedule.
Speaking, the Deputy DG introduced members of the group which cut across all 25 local government in the state states that the group deemed it fit to visit the governor's aide because he is a grassroot mobilizer and a youth with a track record of leadership equity and empowerment style in Ethiope West local government area and, in delta State at large. Ugagaoghene intimated him on the tentative inaugural date asJuly 14th, 2022.
Hon Omomedia commends the Director General Sheriff Jnr for creating an initiative to integrate the youths in his father's campaign as he urged the group to try to engage all other groups across the state as he urged the group not to derail from the task ahead because sheriff is riding smoothly to government house come 2023 and my boss Atiku/Okowa is already in Aso Rock 2023.
He said, it is very rare in a political time seeing the son an aspirant mobilizing for the father. I will always be with the group physically and spiritually because I love seeing youths who wants to grow.
While advising the group to remain focus, he stated that this journey is a bridge connecting them to their future.
Responding, Mr Oghenemaro thanked the EA for his kind words and advises, hereby reaffirming the stand well commitment of the group to deliver Atiku, Okowa, Sheriff and all other PDP candidates in the state.