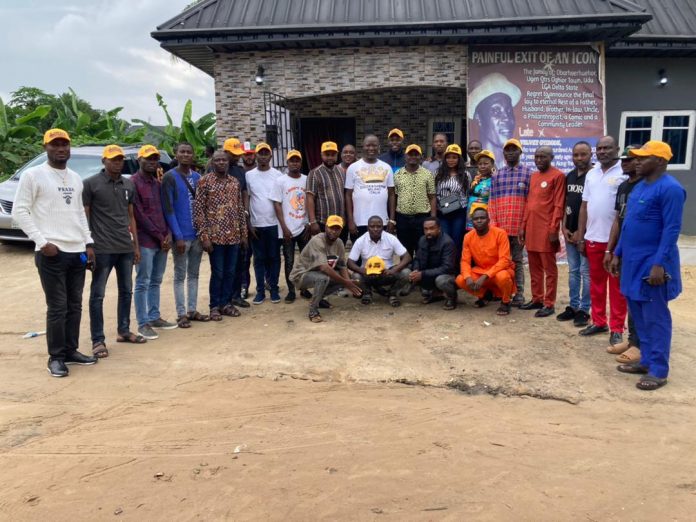 Oghior – The honorable commissioner representing Udu, Uvwie and Urhobo in the Delta State Oil Producing Area and Development Commission (DESOPADEC) Hon. Chief Vincent Oyibode has expressed joy in receiving the More For Delta Youths Project steering committee led by Mr Fred Sheriff Junior Oborevwori at his home town, Oghior, in Udu local government area of Delta state.
He said, MFDYP is the vanguard of the Sheriffs movement having being the first ever group to reach out to him.
Oyibode affirm that MFDYP is the first pressure group to visit him in his country home, stating that the group is already helping him to make his task more easier in reaching out to every youth.
He went further to clarify issues relating to Rt. Hon. Sheriff Oborevwori's educational background and, his name.
"I graduated with Sheriff from Ambrose Ali University, Ekpoma, Sheriff graduated with a second class upper from our alma mata. The name Sheriff was not prominent in his primary school days because he was called Francis but then, sheriff started doing business with the name Sheriff-Fran which made the name Sheriff came to light. I want to assure you that I am aware of the litigation and am confident that the mandate will be upturn at the Appeal court. I can assure your team that by the grace of God victory is sure. This litigation battle birthed by some greedy PDP leaders and the opposition party is not geared for the favor of Delta youths. Sheriff is a "Warri boy" because is born and breed in Warri which aid him the name "Street Credibility". The street credibility simply means "a government for those on the street, those in the creek, those in the market and so on", he said.
The commissioner went further to add that Okowa is Deltas pride. "I amongst other youth stakeholders are working hard to engage other national youth leader to come out with a statement that will make the Atiku / Okowa's presidential mandate a reality".
He express delight once again to Fred Oborevwori for putting this group together. "In fact this group is the vanguard of the sheriff movement and you must not be perturbed", he added.
He encourage and urge the group to hold fast, do research base campaign and, make moves to ensure that the victory of Sheriff and the party is sure. He attest to the fact that the task before the group is a tedious because some of the opportunist whom are more of the West than Delta are bent on truncating the efforts of youths in the state, adding that the sheriff government will not be for those who will carry our collective patrimony abroad.
Other leaders who were with the commissioner includes a senior citizen and the Registrar of the Maritime University Alfred Mulade, Special Assistant to the Delta State Governor on Community Affairs Mr Yoregua Joseph, Special Assistant to honorable commissioner on culture and tourism, Dcn. Nigeria Okorode, amongst others.