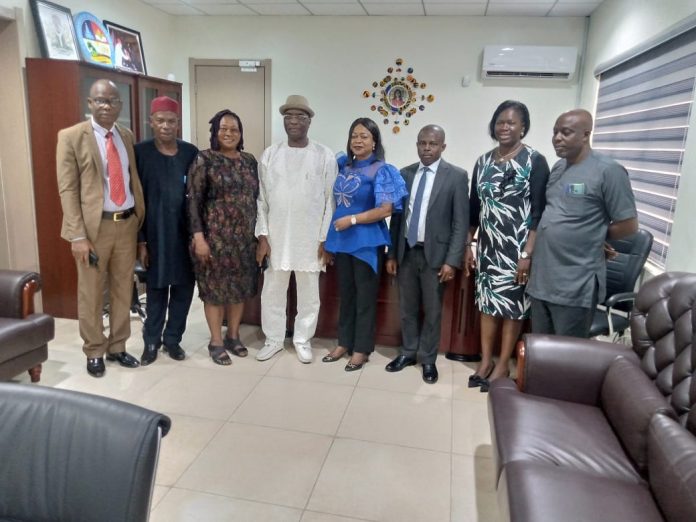 By Magnus Emuji
Delta State Commissioner for Secondary Education, Mrs. Rose Ezewu, has harped on the need for effective synergy with the Governing Council of the state Institute of Continuing Education (ICE) in order to collectively move the institute forward.
Mrs. Ezewu stated this in her office in Asaba when the Chairman and members of the council accompanied by the Acting Director of the Institute, Mr. Onyema Edwin Chukwuma, paid her a courtesy visit.
The commissioner, who assured them that they would be carried along in the scheme of things, said that they were critical stakeholders in the education sector in the state.
She called on every stakeholder to contribute their quotas towards tackling examination malpractice, adding that parents should desist from encouraging their children who failed examination not to repeat their classes.
Earlier, the Permanent Secretary in Ministry of Basic and Secondary Education, Mr. Augustine Oghoro, informed them that formerly the Institute was under the Ministry of Higher Education before it was later merged with the Ministry of Basic and Secondary Education by the state government.
Mr. Oghoro, who said that since the ministry was aware that the institute had governing council, it would always interface with the council to achieve greater results in the quest to reposition the institute for optimum service delivery.
In his remarks, the Chairman of the Governing Council, Chief Champion Kpateghe, said that they were in the office of the commissioner to familiarise themselves and to inform her of their readiness to work together towards the actualisation of the purpose of establishing the Institute.
Chief Kpateghe lauded the commissioner for her constant visits to the various ICE centres in the state.