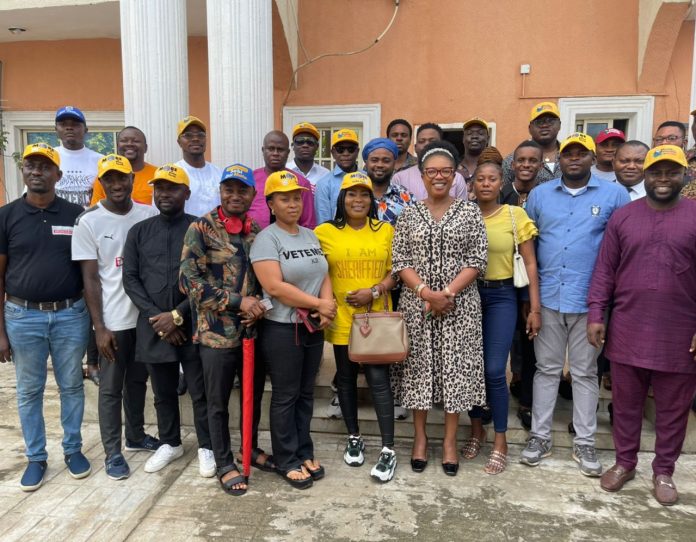 The steering committee of More for Delta Youth Project (MfYDP), a grassroot, political solidarity group formed to mobilize support for the Delta State PDP governorship candidate, Rt. Hon Sheriff Oborevwori, today unveiled the Director-General of Delta State Capital Territory Development Agency (DSCTDA), Rt Hon Joan Onyemaechi (a.k.a. Ada-Anioma)
unveiled as Grand Patroness.
Announcing this today in Asaba during a courtesy visit to her office, Amb. Ugagaoghene Ogheneyole, the Deputy director-General of MfDYP, who led the delegation, said the group was formed to drive youth participation in politics across the twenty five Local Government Areas of Delta State.
Speaking further, Amb. Ugagaoghene explained that the Youth project was also aimed promoting the political campaigns of all PDP Candidates, especially that of Rt Hon Sheriff Oborevwori.
Receiving the delegation numbering over 30youths, the DSCTDA boss took the opportunity to admonish them to imbibe the spirit of steadfastness while undergoing political mentorship.
She narrated how loyalty to political leaders has helped her to remain politically relevant in the state for the past two decades, serving under three different governors who have ruled the state.
Ada Anioma also took time to commend members of MfDYP for their numerous initiatives and for showing solidarity with Rt Hon. Oborevwori, in spites of the prevailiy political circumstances.
She also pledged to support the MfDYP Sheriffiers' Meet and Greet Programme scheduled to come up later in the year.
Highlight of the visit was the unveiling of Ada-Anioma by the DDG as a grand patroness and the snapping of group photographs.