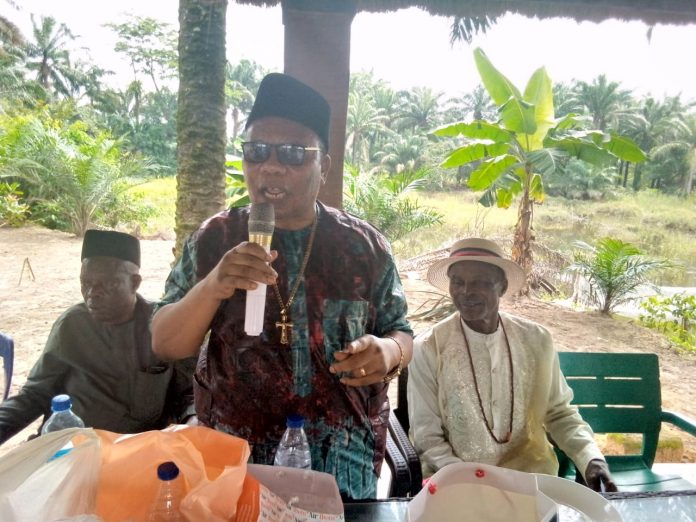 BY ESE ADAGBRA-Ahead of the 2023 General Elections Former Federal Lawmaker who represented Ethiope Federal Constituency in the Federal House,Chief Honourable Solomon Edojah has advised and cautioned Nigerians to vote for Credible Leaders with Integrity and character and not on the bases of the political parties they represent into office come 2023.
Chief Edojah who was speaking during the meeting he hosted for people across party lines from Delta Central Senatorial District under the auspices of Friends of Hon.Solomon Edojah Political Pressure Group in his resident in Kokori, Ethiope East Local Government Area of Delta State.
He declared that the meeting was summoned to rub minds as a preparatory to the next one where they are going to profile their Candidates not base on money ,but to look at their background on what such a person can do and not do, before they can be voted for.
According to him the era of voting on party sentiments is gone!
If you are in the people's Democratic party PDP and you are a Criminal all these while and your sins are forgiven! No! The PDP that I left is worse, than the one I left behind! So we decided to go for a new Nigeria where we depend on preaching on what we can do!
I complained of the PDP until I was thoroughly scammed in All Progressive Congress APC,I returned back to the PDP it was worse off! They have perfected their act of crass Criminality.I have to bring New Nigeria People's Party NNPP where people will be behaving in another way,where there is respect,rule of Law and security"
Chief Edojah stressed that today Nigerians see Politicians as thieves because Nigerian Politicians see politics as a means of livelihood rather than a Vacation.He quoted Late Chief Obafemi Awolowo who said that if you want to make name one should join politics but if you want to make money then go for business! " But if you want to make money in politics be ready to go to jail!So those of you making money from politics be prepare to go to jail"
The Former Federal Lawmaker disclosed that in their next meeting they are going to profile the Candidates and select the good ones irrespective of the political parties they belong with a view of working for them based on their personalities and not money.
It is the person that matters not money or Political party.We made the mistake of voting Political party in the psst,we must avoid it by all means this time around.If you are a good man in PDP we will vote for you! But if you are bad person in Labour Party or NNPP we are not going to vote for you! He concluded