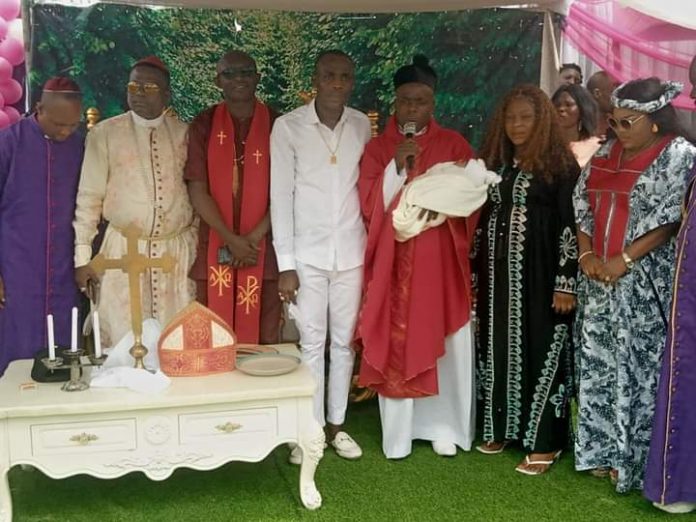 It was celebration garlore for the fast-rising Prophet, Bishop and General Overseer of Jesus solution Christian Bible Deliverance ministry
(Solution Ground) Bishop Prophet Dr. Kingsley Majemite Akpowverhaye for the christening of his first daughter ten months after marriage.
The ceremony which held at his residence in Sapele town, attracted the crème de la crème in the state and beyond.
In a homily, the guest speaker Archbishop, General Overseer, Promise Kingdom Ministry Inc. Worldwide, aka Overflow Chapel, His Grace, Most Rev'd Dr. Godday Iboyi Okokporo (JP) reminded the congregation that children are inheritance from God and cautioned anyone against fighting God's blessings.
The Archbishop, also the Spiritual leader of Okpe kingdom who announced the child's name as little Prophetess Fear-God Osolubrogwe Oyevwomegbevwo Oghenevwegba Majemite Akpowverhaye to the admiration of all guests, admonished parents to norture their children in accordance with God's will.
While frowning at the prevalent moral decadence in the society, the vocal Archbishop said the upbringing of every child is not the sole responsibility of parents only but all, to seeing a better society like old.
Speaking to newsmen, Prophet Dr. Majemite aka Obeban who chronicled his marriage journey ten months ago, expressed his heart felt gratitude to God Almighty for the gift of his child.
While speaking on the choice's name given to his daughter, the highly cerebral prophet said it was a revelation given to him by God since 2014 long before he got married.
According to him, "the name was given by revelation during his 21 days fasting and prayers programme in 2014.
When God told me that He was going to seal up His convenant with me through the birth of our baby, little did I know that so soon. Prophetess Fear-God is going to be a great woman of God on earth. Thy Lord told me that she will do exploits even more than me.
You see, after my marriage, alot of rumour moggers said I used my private part for rituals that my wife can't take in, and other calumnies against the ministry.
To God's glory, the world can now see that God is using His prophet to propagate His work here on earth.
While appreciating everyone for attending the event, Prophet Majemite also used the occasion to pray for those believing God for miracle baby (ies).
Renowned Niger-Delta Gospel artists Evang. Jerry Ekpekuro, Lizzy Okpa among others where on the ground to add glamour to the event.
The event later turned revival service where souls were won for Christ Jesus.