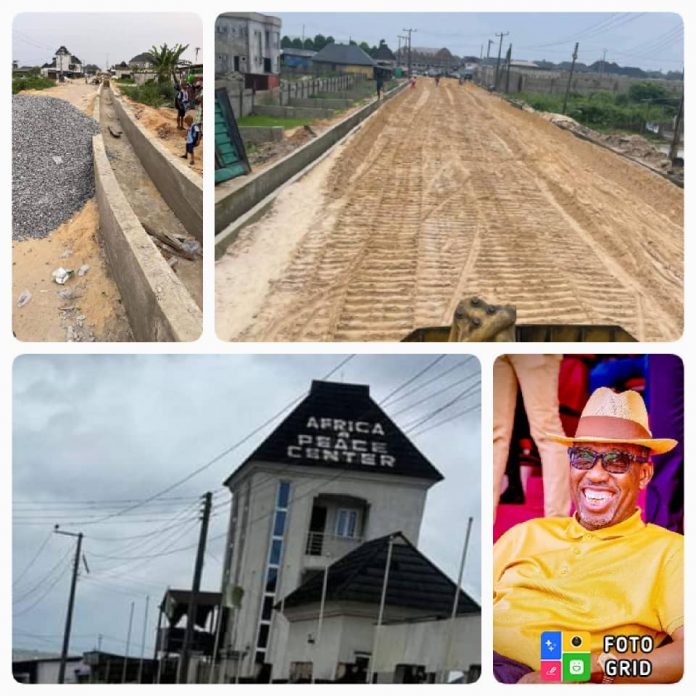 By Fred Latimore Oghenesivbe Esq
#eacgovdelta
Sheriff Mulade is a controversial politician, who derives pleasure in misinforming and misleading the general public via media propaganda about the state of affairs in Delta State, whereas he is one of the major beneficiaries of Okowa administration's good governance strides.
Few days ago, Mulade raised false alarm claiming that Delta State was at the verge of sinking, which obviously earned him some tongue lashing and multifaceted media attacks from citizens.
It will shock you to know that Delta State Government under his Excellency, Senator Dr Ifeanyi Arthur Okowa, is currently constructing and taring UGOLO/OKIRIKPERE ROAD linking AGBARHO/UGHELLI EXPRESS WAY. Mulade's office, Africa for Peace Centre, is located along this road, as you can see in the photos below.
When completed in few months time, Mulade, his staff and clients will ply the road with ease. The project will jack up value of property in the area including those of Africa for Peace Centre, owned and managed by the highly controversial Peace and Environment activist, Comrade Sheriff Mulade.
It follows that Mulade criticisms of Okowa administration was ill-motivated, biased and in bad faith.
Governor Okowa brought development to the door step of Mulade in broad day light, but he mischievously and deliberately looked the other way. Constructive criticism is what governor Okowa yearns for, to trigger more delivery of dividends of democracy, not selfish, self centered and unfair criticism as regrettably and shamefully exhibited by the Executive Director of Africa for Peace Centre, Mulade.
Delta Under governor Okowa, cannot be faulted in infrastructure development, health and social welfare services, job and wealth creation, sports and Nollywood infrastructure development wherein thousands of youth benefited and counting, who are today employers of labour, local and international stars in their fields of endeavour.
It is on record that governor Okowa is the first state chief executive to build an expansive modern film village in Nigeria, to cater for the multifaceted needs of Bollywood industry which upon commissioning this year would provide jobs and create wealth for thousands of Deltans and Nigerian Youth from all states in Nigeria and beyond.
Mulade is obviously aware of this gigantic Bollywood project by Gov Okowa, but decided to raise false alarm. Grow up, Mulade.
Three new Universities were established by Okowa administration, namely; Delta University, Agbor, Dennis Osadebey University, Anwai Asaba and Delta State University of Science and Technology, Ozoro. These Universities have since commenced full academic activities, employing professionals, teaching and non teaching staff. Delta Youth are the major beneficiaries of these landmark achievements by this administration.
In the last academic session, the three newly established Universities admitted thousands of youth who are now very happy after several years of writing JAMB and no space for them. This is obviously good governance and Okowa deserves Mulade's accolades.
And in the Riverine Communities cum Creeks, Governor Okowa's administration completed the Ogidigben, Oporoza, Okerenkoko internal Roads, Burutu township road phase one and two, Youbebe–Biniebi-ama road, Obotobo–Sokebolou–Yokiri road, Obotobo I community internal road, Sokebolou internal road, Burutu Modern Market, Funding of Ayakoromo Bridge project, Ogbobagbene–Ojobo road, construction/renovation of schools.
Governor Okowa upgraded facilities at the Delta State University Teaching Hospital, Oghara, completed the long abandoned Asaba Specilist Hospital, built a General Hospital at Abavo in Ika South LGA, and rehabilitated several others in Patani, Agbor, Warri, Eku, et al.
Governor Okowa was the first State Chief Executive under this dispensation to launch the Contributory Health Insurance Scheme for all Deltans with government paying for the Under 5, pregnant women and the elderly in the society. This is good governance by a caring and result oriented governor.
I am happy to announce to Mr Mulade and the general public that Delta State Contributory Health Commission, DSCHC, has a total of 702,413 enrollees comprising Formal Health Plan – 168,516, Informal Health Plan – 11,187 and Equity Health Plan – 522,710 and counting. More registration for the scheme is ongoing to encourage effective health coverage in the state.
Mulade in his unprovoked outburst deliberately ignored the above listed achievements of the state government under Okowa, and many more. He exhibited politics of bitterness anchored on falsehood and black propaganda against a performing governor and his government.
Mulade's fake outburst is essentially repugnant to good conscience, anti peace and anti progressive activism.
It is only fair for Comrade Mulade to apologise publicly to Delta State Government and Governor Okowa, for feeding Deltans and the general public with falsehood garnished with acute malice, selfish self interest rather than public interest calculated to conjure unmerited and fraudulent media attention.
#Latimore