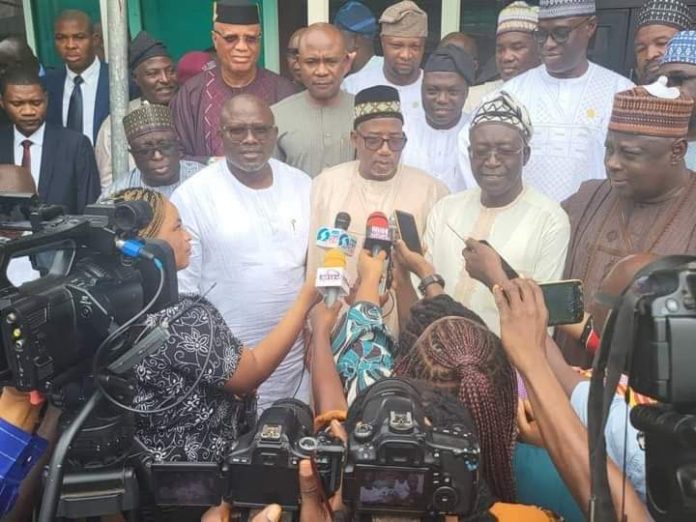 The national working committee of the People's Democratic Party (PDP) on Wednesday held a crucial meeting behind closed doors with governorship candidates of the party for the 2023 general election.
(TNG) reports that Chief Sheriff Oborevwori, the embattled governorship candidate of the PDP for Delta State was present at the meeting while Olorogun David Edevbie was absent.
Olorogun Edevbie is in court contesting the governorship ticket with Chief Oborevwpori, faulting the credential of the Speaker of the Delta State House of Assembly.
Recall that the Court of Appeal, Abuja Judiciary Division on August 19 reserved judgment on the appeal filed by Oborevwori and the PDP.
On July 7, 2022, the Federal High Court Abuja faulted the certificates and other documents filed by Oborevwori for nomination as the governorship candidate of the PDP. In his judgment, Justice Taiwo Taiwo of the Abuja High Court disqualified Oborevwori as the governorship candidate of PDP in Delta state.
Subsequently, Justice Taiwo ordered the Independent National Electoral Commission (INEC) and the PDP to recognise Olorogun Edevbie as the candidate of the PDP for the 2023 governorship election in the State.
The trial Judge had agreed with the plaintiff in the suit that Oborevwori ought not to be on the ballot for the PDP governorship primary election on account of supplying false and forged documents to the INEC in aid of his qualification for the governorship election.
But not satisfied with the judgement of Justice Taiwo of the Federal High Court, Oborevwori and the PDP headed to the Court of Appeal to seek redress. On August 8, 2022, the Appeal Court fixed August 19, 2022 as the date for a proper hearing of the appeal case.
At the resumed hearing at the Appeal Court, presided over by Justice Peter Ige, leading the three-member panel of the appellate court, in his ruling, reserved judgment on the appeal filed by Oborevwori after all counsels adopted their arguments.
Justice Ige disclosed that the date for judgement would be communicated to all parties involved in the case later. Being a pre-election matter, the 180 days stipulated by the Constitution for adjudication of pre-election matters as it relates to Delta state will elapse on September 5.
TNG reports that all the governorship candidates of the PDP, except Seyi Makinde of Oyo State, who is out of Nigeria, attended the crucial meeting of the party held at the party's national headquarters in Abuja. Before the meeting went closed doors, Oborevwori introduced himself to the sitting as the governorship candidate of the PDP for Delta.