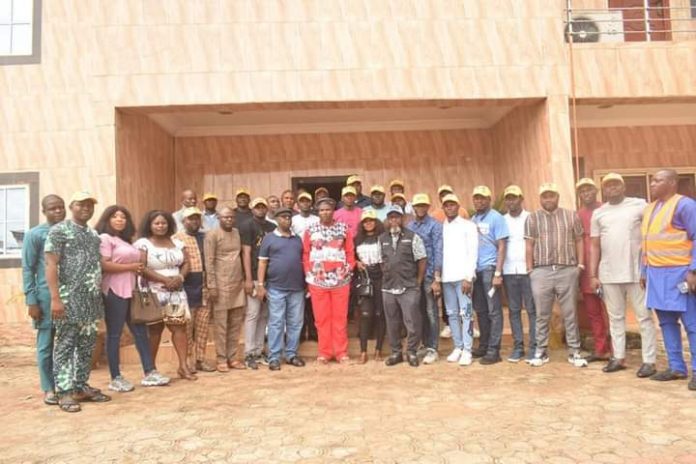 Youths in Delta State have been called upon to remain standfast with the M.O.R.E agenda of the 2023 state governorship candidate of the Peoples Democratic Party (PDP) Rt. Hon. Chief (Elder) Sheriff Oborevwori whose administration would guarantee all inclusiveness.
The PDP Delta south senatorial candidate Hon Evangelist Michael Diden AKA Ejele made the call while playing host to a formidable political pressure group, "M.O.R.E For Delta Youth Project" at his office in Asaba, the state capital.
Diden also the National Chairman of Delta Political Vanguard, flanked by prominent Chieftain of the party Olorogun John Oguma among others explained that the government of Sheriff Oborevwori would create more opportunities for youths and women to achieve their political ambitions.
While commending the group for their past events especially the one thousand man march that culminated into five thousand man march in Asaba at the heat of the state hassy political atmosphere, Sheriff meets and greets, convocation prayers among others x-rayed their their hunger for the M.O.R.E agenda.
The PDP Delta south Senatorial candidate who further commended the group for organizing themselves to form the group, tasked them to be more united in propagating the PDP 5/5 gospel across the 25 LGAs of the state.
The state former lawmaker and council boss who gave a brief profile of the outstanding gubernatorial candidate of the party 'Oborevwori', encouraged the group to be resolute and standfast while believing themselves for a better tomorrow.
He however declared full support towards the group future plans.
Earlier, the Deputy Director General of the group Ambassador Ugagaoghene Ogheneyole who thanked Diden for the warm reception accorded them, said the group was on formilarization tour with various PDP stakeholders across the state to align with and unveil them the group vision and mission ahead of 2023 general elections.
The eloquent spoken Deputy DG who gave the leadership structure of the group that cut across the 25 LGAs of the state posited that Delta youths have unanimously agreed to be part of the electioneering process to midwife the next political administration in the state.
While chronicling the recent achievements of the group, Ogheneyole enumerated more projects to be done like distribution of 6,000 aprons to traders/market women across the state with the sole aim of creating more consciousness among young people and reasons why they should support all PDP candidates and Atiku/Okowa ticket.
He further explains that the essence of the events are to draw more public attention to support the Sheriff movement through their ward to ward and unit to unit campaign in both rural and public places to preach the 5/5 PDP mantra especially market places, mottor parks, religion centres among others.