In keeping with her electioneering promises, the Councilor Representing Ward 3 Obomkpa in Aniocha North Legislative Arm, Hon Queen Ukamaka Ndubuokwu has again reached out to constituents with the distribution of exercise books and other writing materials to Nursey, Primary and Secondary Schools in her ward.
Hon Ndubuokwu accompanied by some of her colleagues and associates in the politics of Aniocha North, on Monday, 26/9/2022 stormed the premises of the five schools in Obomkpa to present the educational materials to the pupils and students, amid cheers from the beneficiaries and authorities of the various institutions.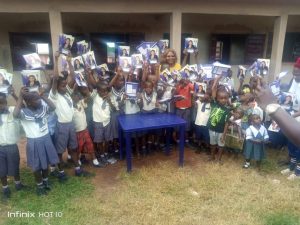 The local government Lawmaker explained that the distributions could not have come at a better time than now as the pupils and students were resuming new academic session, saying that her goal is to enhance quality of teaching and learning in the various schools.
While thanking the Chairman, Civil Service Commission, Dame Patience Nkem Okwuofu for her sustained support and prayers, Hon Ndubuokwu commended other stakeholders in Ward 3 Aniocha North, for their encouragement.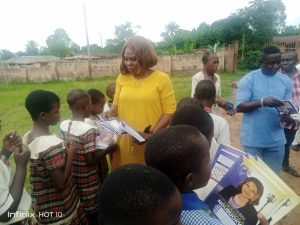 She pledged to remain a good ambassador of the ward by ensuring quality representation of the people at the legislative arm of the council, pointing out the need for sustained support and prayers from constituents.
The Legislator charged the various institutions to strive for academic excellence, stressing that Dr ifeanyi Okowa's led PDP administration in Delta State places high premium in the education sector of the state.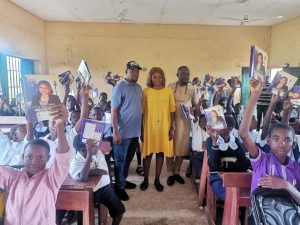 "This presentations of over Two thousand exercise books and other writing materials to schools is not only to promote and encourage academic activities in Ward 3 Obomkpa, but in line with the education policy of the PDP led government of Delta State. His Excellency, Senator (Dr) Ifeanyi Okowa has invested so much into the education sector and we need to support him for greater academic laurels in Ward 3 Aniocha North.
"I must thank my mummy and mentor, Dame Patience Nkem Okwuofu for her exemplary leadership, prayers and support. And to other stakeholders, my indebtedness to all is quality representation at the legislative arm of the Aniocha North local government council. I promised to remain their good ambassador", Hon Ndubuokwu said.
The female Councilor urged the beneficiaries, which include, pupils of St. Steven Anglican Nursery and Primary School, Peculiar Nursery and Primary School, Anagba Nursery and Primary School and Ofunne Nursery and Primary School as well as students of Obomkpa Mixed Secondary School to make good use of the donated items.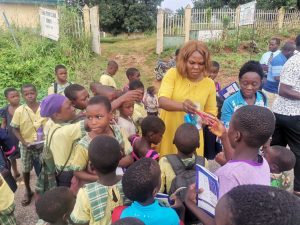 " I want to appeal that this my little way of supporting the pupils and students now that they are just resuming a new academic session be appreciated by seeing them come out in flying colours in their exams. My expectation is for them to learn, study hard and make their parents proud", she emphasized.
Authorities of the benefiting schools thanked Hon Ndubuokwu for the donated educational materials, saying that the gesture was worthy of emulation and would go a long way to promoting academic activities in the institutions.
On the entourage of the Ward 3 Councilor were the Leader of the Aniocha North Legislative arm, Hon. Nwike Okonkwo, Councillor representing ward 14 Ezi, Hon Patrick Ngbakwulu, that of ward 13 Ugbodu, Hon Ogwu Solomon Bamisetemi, and their counterpart in ward 1 Obior, Hon. Hilary Okafor as well as Hon. Eziunnor Ekene, Supervisory Councilor for Finance, Aniocha North.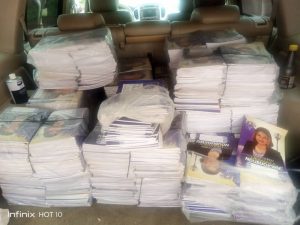 Others were, Aniocha North PDP Youth Leader, Hon Anor Rich, PDP Ward 3 Chairman, Okonkwo Joseph, Special Assistant Political to the Governor, Hon Ajumuka Alex, , Special Assistant Political to Speaker Delta State House of Assembly, Hon. Ben Anazia, and others including Mr Himo Ekwumekwu, Mr Charles Akaezuwa and Comrade Eboka Jideose Jude.