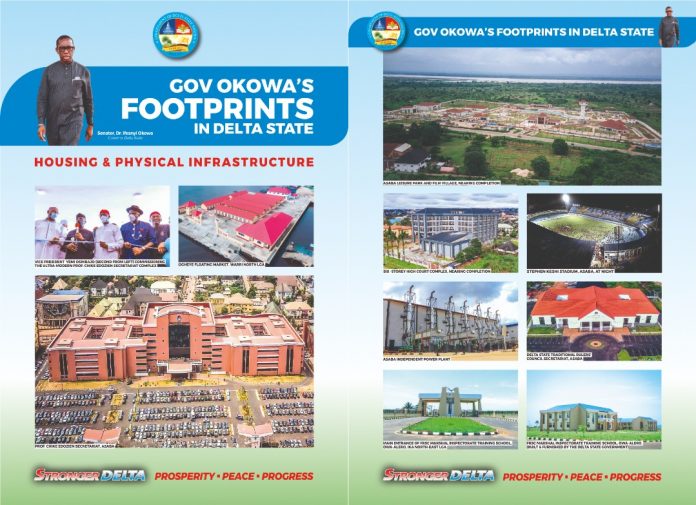 By Onaimor Great E
It is no longer news that the Delta state Governor cum PDP Presidential running mate, His Excellency, Sen Dr Ifeanyi Arthur Okowa is a born leader with the ornament of basic leadership prowess and unblemished political feats which has made him to stand tall amongst men particularly politicians in the History of Delta state and Nigeria at large.
It is pertinent to note that Governor Okowa has done impressively well for Delta state since his assumption of office and eyes have seen and ears have heard of his Uncommon Transformation in all sectors of the state economy, ranging from Construction of standard roads, building of bridges, construction of World class markets and host of others which has pushed Delta state to be recognized as the Hub of social, economic and political growth especially when the South South region is involved.
As it has always been, Governor Okowa although promised to leave no stone unturned as regarding the development of the state, his flare for human capital development is second to none, and as God has it, he has been able to leave up to expectations in various categories of endeavor, therefore setting the pace for deserving economic sustainability in Delta state.
Perhaps, he doesn't promise and fail neither is he known for reneging on his promises, but he has been able to maintain a status quo of being the best and that he has held on high esteem, even as he continues to unravel more developmental milestones in the state despite his plenty assignment as PDP Presidential running mate in the 2023 General Elections.
Noticeably, overtime the governor has distinguished himself as a Topnotch leader filled with vision and mission to bettering the lives of Deltans which has made it necessary for Nigerians to yearn for his type as the number Two citizen of this great country in the coming years.
As it is, seen and heard of, the Housing and Physical Infrastructures of Governor Ifeanyi Okowa are crystal clear and well arranged in all nook and cranny of Delta state, some of which are outlined below this paragraph.
1. The Ogheye Floating Market, Warri North LGA
2. Chike Edozien Secretariat complex in Asaba,
3. The Asaba Independent Power Plant
4. Stephen Keshi Stadium in Asaba
5. Delta state Traditional Rulers council Secretariat in Asaba.
6. Six Storey High Court Complex Near Completion
7. Asaba leisure park and film village near completion
8. FRSC Marshal Inspectorate Training School in Owa-Alero Built and furnished by the Delta state Government, among other mind blowing feats recorded in the Housing and Physical Sector for the past 7 years of the Governor Ifeanyi Okowa's administration.
However, it did not end with the aforementioned projects, as more are on the way, because our Governor is a project loving man who truly understands what it takes to work assiduously in ensuring that the needs of his people are met accordingly without any form of jeopardy.
With Governor Ifeanyi Okowa, Delta state is blessed, methinks, his election as running mate to the PDP Presidential Candidate, Alhaji Atiku Abubakar in the forthcoming elections is long overdue and the goodies that would be unravelled after their emergence as President and Vice President of Nigeria will elate Nigerians.