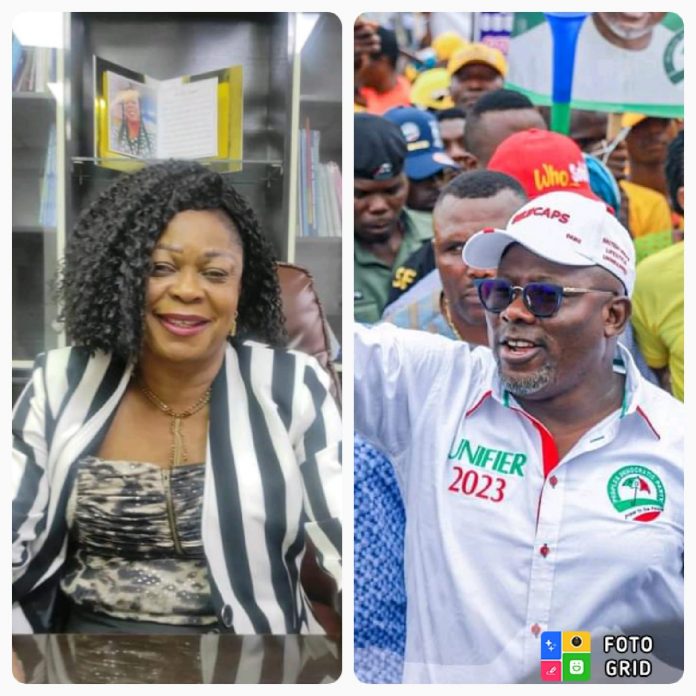 By Magnus Emuji
Delta State Commissioner for Secondary Education, Mrs Rose Ezewu has rejoiced with the State Governorship candidate of the People's Democratic Party in 2023 general elections and the Speaker of the State House of Assembly, Rt. Hon. Sherriff Francis Oborevwori on the supreme court judgement which affirmed his candidacy.
Mrs. Ezewu , while reacting to the judgement of the apex court declaring Rt. Hon. Oborevwori as the candidate of the party and eminently qualified to contest the 2023 Governorship election, described the judgement as sound and was in tandem with the expectations of Deltans.
She said that the judgement of the Supreme Court had finally laid to rest the unnecessary litigations concerning the eligibility of Rt. Hon. Oborevwori to contest the Governorship election.
Mrs. Ezewu further described RT. Hon. Oborevwori as a pragmatic leader with uncommon resilient spirit and commitment to advance development in the State.
She reiterated that the victory in both the Appeal and Supreme Courts was an act of God and a strong affirmation of the mandate given to the party's Governorship candidate and his Deputy , Sir Chief Monday Onyeme by the good people of the party and Deltans in general.
Mrs. Ezewu, however,called on Olorogun David Edevbie and his supporters to rally round the party's Governorship candidate and other candidates of PDP in 2023 election, adding that they all belonged to one PDP family.
The Secondary Education Commissioner advised the opponents of Rt. Hon. Oborevwori to put the outcome of the judgement behind them and work for the victory of the party in 2023 even as she noted that there was no Victor no vanguished .
Mrs. Ezewu used the opportunity to appreciate Deltans, especially the stakeholders and all party faithful for their unwavering support for the party's Governorship candidate.