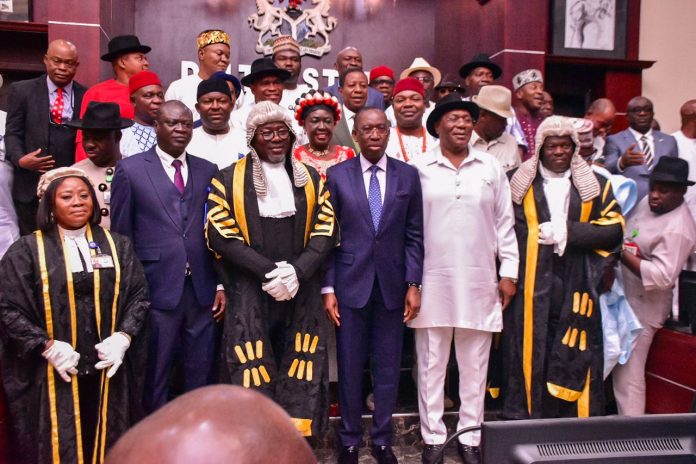 Deputy Speaker, Delta State House of Assembly, Rt Hon Ochor Christopher Ochor has described the year 2023 Appropriation Bill as symbolic and historic in the life of the state.
Ochor stated this in a motion on the floor of the House immediately after Thursday's presentation of the 2023 Appropriation Bill of 561.8 billion naira by Governor Ifeanyi Okowa.
The motion entitled "Vote of thanks to His Excellency, the Governor", was seconded by the member representing Warri South West Constituency, Hon Emomotimi Guwor and adopted.
The Deputy Speaker, explained that the budget of the state government for the 2023 is quite symbolic and historic for the
Legislature and the Executive as it is the last budget presentation in the life of the administration.
Ochor commended Governor Ifeanyi Okowa, CON who is the Vice-Presidential Candidate of the Peoples Democratic Party, PDP, for his focus and determination for the administration to finish strong.
The Deputy Speaker stated that haven listened to the presentation, he strongly believe that the Budget tagged "Budget of Seamless and Stable Transition" will consolidate on the achievements of the administration in the last seven and half years.
He said the proposed state financial law would lead to smooth economic transition in 2023.
Ochor assured the Governor that the state legislature will as usual process the Budget timely through the Standing Committees interface with Ministries, Departments and Agencies of Government.
The Deputy Speaker on behalf of the House expressed immense thanks to Governor for the early presentation of year 2023 Budget.