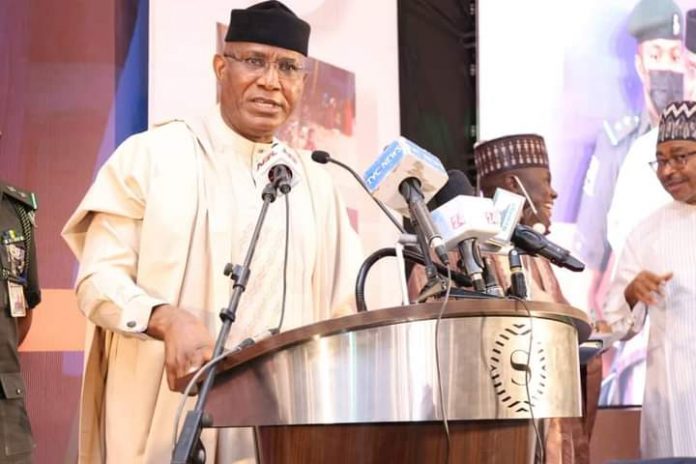 Ahead of the 2023 governorship election in Delta State, the Deputy President of the Senate and All Progressives Congress (APC) Governorship candidate in the state Senator Ovie Omo-Agege has unveiled his manefesto anchored on EDGE to build a new Delta (BAND).
Omo-Agege who stated this at a world press conference held at the party campaign council in Asaba, the state capital, said he is the bearer of hopes and aspirations of all Deltans.
While sharing his policy document that will form plan to band together to build a vibrant, equitable and prosperous state, based on core moral values of service, hard work and shared sacrifice, where everyone has the opportunity to achieve his or her full potential, the Senator pride himself higher than other candidates with all the necessary requirements to liberate, rebuild and reinvigorate the state to be the leading light of the Niger Delta region, and indeed, Nigeria.
The APC governorship candidate who expressed certain concerned that the state has been left behind on key development indices despite the huge sums of money that flow into the State from the Federation Account and 13 percent derivation along with internally generated revenue by way of the various taxes said the state remain the second-highest debt portfolio in the country after Lagos State, quoting the Debt Management Office, said he is on a movement to restore and revive the State that had been misgoverned and rapaciously pillaged by those whom we had entrusted with leadership.
Senator Barrister Ovie Omo-Agege, the Obarisi of Urhobo land, an alumnus of the Faculty of Law, University of Benin, and Solicitor and Advocate of the Supreme Court of Nigeria who chronicled his entrance into partisan politics in 2002 as aide to former Governor James Ibori, culminatively other Political positions held and now a two term sitting senator said with his huge experiences, he will bring to bear plans to come up with realistic policies and plans, which when implemented will get Delta State going in the right direction again.
While explaining his 60-Page manifesto said his vision and mission of his EDGE Agenda means: E for Employment and Empowerment; D for Development (Economic, Infrastructural and Industrial); G for Good Governance, and E for Enduring Peace and Security.
He said he will address the scary unemployment rate by giving priority to public investment in agriculture and tech-driven entrepreneurship.
"My plan as stated in our manifesto will change the commercial ecosystem of the State and create an investment-friendly charter that makes access to funds and infrastructure a natural way of life. Human capital development, agriculture, tourism, infrastructure, housing and other labour-intensive interventions will be at the core of our agenda.
We shall establish a Delta State Employment, Entrepreneurship and Empowerment Programme (DEEP), and facilitate the establishment of cluster industries in each of the twenty-five Local Government Areas of our State. We will deliberately create an enabling environment for industries and manufacturing; establish tech hubs, set up small business loan guarantee schemes, promote skills acquisition and set up a Career Development Centre for Deltans.
As part of our plans to promote ease of doing business, we will undertake institutional and process reviews, remove red tape and bureaucratic bottlenecks, improve infrastructure, and re-engineer our peace and security strategies while establishing a one-stop repository of business knowledge and information. We will guarantee the rights of women and invest their unique energy to drive social and economic development in the state. We will initiate a youth development program that moves them away from the hopelessness of today, connect them to creative endeavours and generate energy for honourable work.
We will make aggressive investments in modern infrastructure capable of opening up the total economic energies of our people, we will lift the State out of a mono-economic dependency by launching diversification into tech and business incubation. We are deeply committed to the cause of changing the current development path of our State. However, we cannot do it without the support and cooperation of our people. Democracy and development thrive on a watchful and active citizenry who should hold us accountable every step of the way.