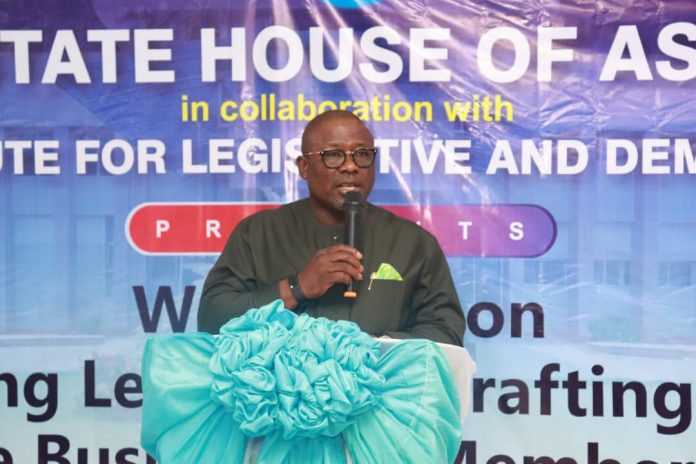 DELTA State Governor-elect, Rt Hon Sheriff Oborevwori, has constituted 88-man transition committee, preparatory to his inauguration as Governor on May 29th.
Oborevwori in a statement personally signed by him, said the Committee is to be chaired by Prof. Emmanuel Nwanze, while Prof Hope Eghagha would serve as Secretary.
Other members of the Committee, which would be inaugurated on Monday, 2nd May at the Unity Hall, Government House, Asaba at 12 noon, are; Dr Kingsley Emu, Dr Barry Gbe, Chief Sunday Onoriode, Chief Tilije Fidelis, Mr Ifeanyi Egwunyenga, Mr Johnbull Edema, Hon Samuel Mariere and Dr Kingsley Ashibuogu.
Others are; Engr Goodnews Agbi, Mr Abel Esievo, Mr Darlington Ijeh, Prince Kelly Penawou, Mrs Cordelia Anyangu, Hon Joan Adanioma, Hon Pally Eghovie, Hon Shola Daibo, Mrs Georgina Evah, Mrs Christabel Obiuwevbi, Philomena Ededey, Mrs. Shimitte Bello, Dr. Mrs. Evelyn Aluta, Mrs. Roseline Amioku, Hon. John Nani, Mr. Mofe Pirah, Barr. George Orogun, Mr. Ikechukwu Maduemezue, Mr. Ovie Emuakpor, Hon. Godknows Angele and Hon. Perez Omuon.
Also to serve in the Committee are; Mr. Ezekiel Okoh, Mr. Godspower Enerho, Mr. Isaac Weyinmi Agbateyiniro, Mr. Donald Peterson, Mr. Eugene Uzum, Mr. Isioma Okonta, Mr. Odinigwe Daniel Odigie, Mr. Emmanuel Eyakagba, Hon. Onoriode Agofure, Mr. Augustine Ogedegbe, Rt. Hon (Barr.) Basil Ganagana, Hon. Johnson Erijo, Chief Allison Ogidigben, Chief Favour Izoukumor, Olori Atuwatse III and Miss Orode Uduaghan.
Oborevwori in the list released on Thursday night, named other members of the Committee to include; Hon. Justin C. Okoroji, Erarawewho Junior Uyero, Okodozor Ukubokeye, Christian Onogba, Mr. Kennedy Uzoka, Mr Austin Ayemidejor, John Mutu, Prof. Ikomi Robert, Hon. Pascal Adigwe, Rt. Hon Emmanuel Okoro, John Ashima, Apostle Dr. Okonye Cyril Ifechukwude and Rev. Gideon Ogheneruemu Oyibo.
Others are; Hon. Solomon Ighrakpata, Hon. Ferguson Onwo, Hon. Engr Emeka Nwaobi, Barr. Mrs. Lyna Aliya Ocholor, Comrade. Goodluck Ofobruku, Comrade Osanakpa Augustine, Amb. Caroline Orobosa Usikpedo, Sonny Ekedaye, Barr. Chris Ifeanyi Osakwe, Barr. Possible Solomon Ajede, Efe Tobor Josiah, Eze Henry Ekene, Emeka Umerah Bidokwu, Prof Festus Arunaye and Barr. Stella Anetor.
Others who also made the list, are; Hon. Princess Pat Ajudua (Ph.D.), Hon Anthony Elekeokwuri, Rt Hon. Festus Agas, Dr Akpoveta Isaac, Hon. Emmanuel Ighomena, Hon. Ben Igbakpa, Mr Mideno Bayangbon, Barr. Andrew Orugbo, Sen Emmanuel Aguariavwodo, Rev. Fr. Christopher Ekabor, Barr. Val Arenyeka, Dr Michael Ifeanyi Osuoza and Chief Owin Erirhomuru.