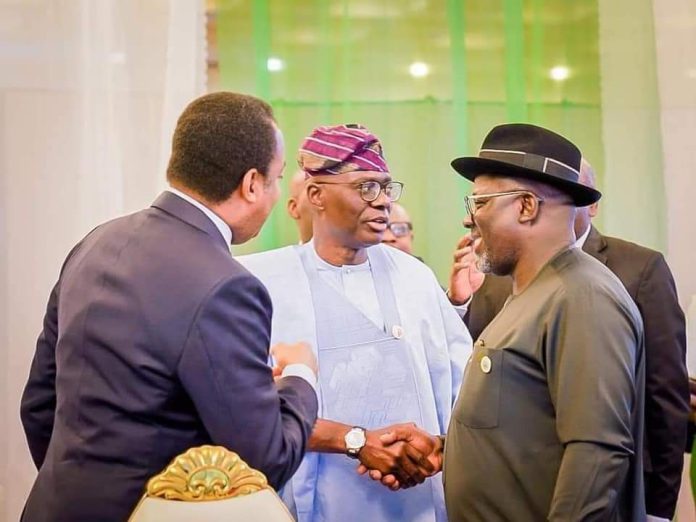 Over the weekend, some members of Delta State Chapter of the All Progressives Congress, APC, from Ndokwa/Ukwuani Federal Constituency paid a scheduled visit to Deputy Senate President, DSP, Senator Ovie Omo-Agege in Abuja, wherein he falsefully and fraudulently claimed that he won the 2023 Delta governorship election "clean and clear."
Agege known to have large appetite for media propaganda and spread of spurious allegations, blamed the APC national government controlled Independent National Electoral Commission, INEC, over his woeful performance at the polls, alleging that some officials of the electoral umpire were compromised, but he failed to disclose their names.
Reacting to Agege's laughable claims, Spokesperson of Delta State Campaign Council of the Peoples Democratic Party, PDP, Olorogun Barr Fred Latimore Oghenesivbe, said the Delta APC governorship candidate in the just concluded elections is yet to come to terms with the reality staring at him in the face, adding that Delta State Governor-Elect, Rt Hon Sheriff Francis Oborevwori, and incoming First Lady of Delta State, Her Excellency, Tobore Oborevwori are about now almost done with the induction programme organized by the Secretary to the Federal Government for Governors-Elect at Aso Rock Banquet Hall, State House Abuja.
Oghenesivbe noted that Senator Agege's acute desperation to be governor was responsible for his reckless statements and fraudulent claim to victory which the INEC declared in favour of Delta State Governor-Elect, Rt Hon Oborevwori, who won in twenty one, out of twenty five Local Government Areas in the state, leaving Agege with four LGAs.
The PDP spokesperson further asserted that prior to the 2023 governorship election, he (Oghenesivbe) predicted in several articles and media engagements that Elder Oborevwori will retire Senator Agege and Olorogun Kenneth Gbagi of the Social Democratic Party, SDP, from active politics in the State, a political prophesy that has been fulfilled.
Oghenesivbe, who is also the Executive Assistant on Strategic Communications to Delta State Governor, Senator Dr Ifeanyi Arthur Okowa, CON, advised Senator Agege to congratulate the incoming governor of the State, His Excellency, Rt Hon Sheriff Francis Oborevwori, and move on, because genuine evidence abound to repudiate his false and fraudulent claim to victory.
He noted that Senator Agege's electioneering campaigns did not attract the major stakeholders and party bigwigs of Delta APC, which was a clear indication that he failed the governorship election long before it was held, adding that one of the core leaders of the APC, Dr Cairo Ojuogboh and several others gave vivid account of Senator Agege's unpreparedness, moral decay, lack of visionary leadership and gave cogent reasons why he performed abysmally in the just concluded governorship election in the state.
"It's laughable and at the same time comical for Senator Agege who struggled and managed to win in four local government areas out of twenty five LGAs to shamelessly lay claim to victory. So shameful and highly despicable.
"Multifaceted evidence abound of how Agege illegally detained some INEC officials and party agents on election day, indulged in all manner of manipulations to win in four local governments. Agege must be reminded that he that comes to equity must come with clean hands.
"I dare to say, without prejudice, that no Tribunal or competent Court of Law in Nigeria, would declare Senator Agege winner on account of four local governments which he won after extensive crude scheming and manipulations.
"It's obvious that the outgoing Deputy Senate President is lost in woeful defeat. It's time for him to wake up from his deep slumber and accept the fact that Rt Hon Sheriff Francis Oborevwori, JP, shall be inaugurated governor of Delta State on May 29, at the Stephen Keshi International Stadium, Asaba, for a tenure of four years.
"Should Agege decide to run in 2027, Oborevwori shall defeat him again with a wide margin," Oghenesivbe assured.