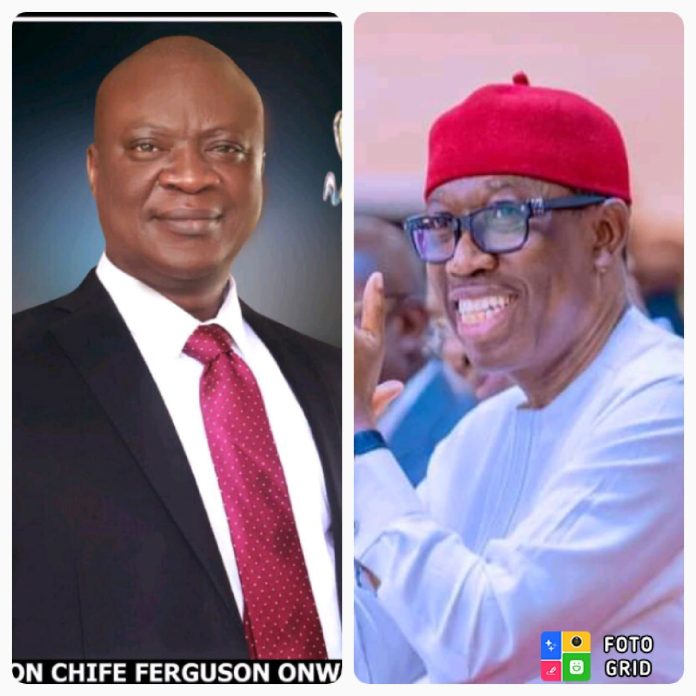 Member Representing Isoko South 2 Constituency, Delta State House of Assembly, Hon Ferguson Onwo has said that the eight year tenure of Dr Ifeanyi Okowa as Governor, witnessed peace, unity of purpose and good governance in the state.
Speaking on the 64 birth anniversary of the former Governor, Hon Onwo acknowledged the stability in Delta polity during the reign of Dr Okowa as the State Chief Executive, saying that the immediate past administration in the state achieved so much for the people.
The Lawmaker who was the Majority Leader in the 7th Assembly, described the cordial working relationship between the State Legislature and the Executive under the watch of Dr Okowa as unprecedented and outstanding.
While wishing the former Governor good health, peace of mind and progress in his future life endeavours, Onwo said there were a lot to tap from the reservoir of knowledge and experience of Dr Okowa in all aspects, including politics and governance.
According to Onwo, the humility and integrity of the former governor will always see him through in every situation, stressing that whoever promoted peace and welfare of others, must reap bountifully from such seeds of love.
"As I joined millions of well wishers to celebrate His Excellency, Senator Dr Ifeanyi Okowa, the immediate past Governor of Delta State, on his 64 birth anniversary, I pray that God grant him good health and peace of mind at all times.
"Okowa worked so hard for peace, good governance and progress in the state as Governor. All these seeds of positive vibes shall continue to see him through in future life endeavours. He is an amazing administrator. There were so much learnt from him. I will always like many others wish him well and more grace upon his life", Onwo stated.
The Lawmaker also acknowledged the seamless transition from the administration of Dr Ifeanyi Okowa to that of Rt Hon Sheriff Oborevwori, noting that the development was a pointer to greater unity and progress in Delta State.
Hon Onwo called for the support of Deltans as the present administration is poised to advancing the state with the M.O.R.E. agenda of the Governor, Sheriff Oborevwori.