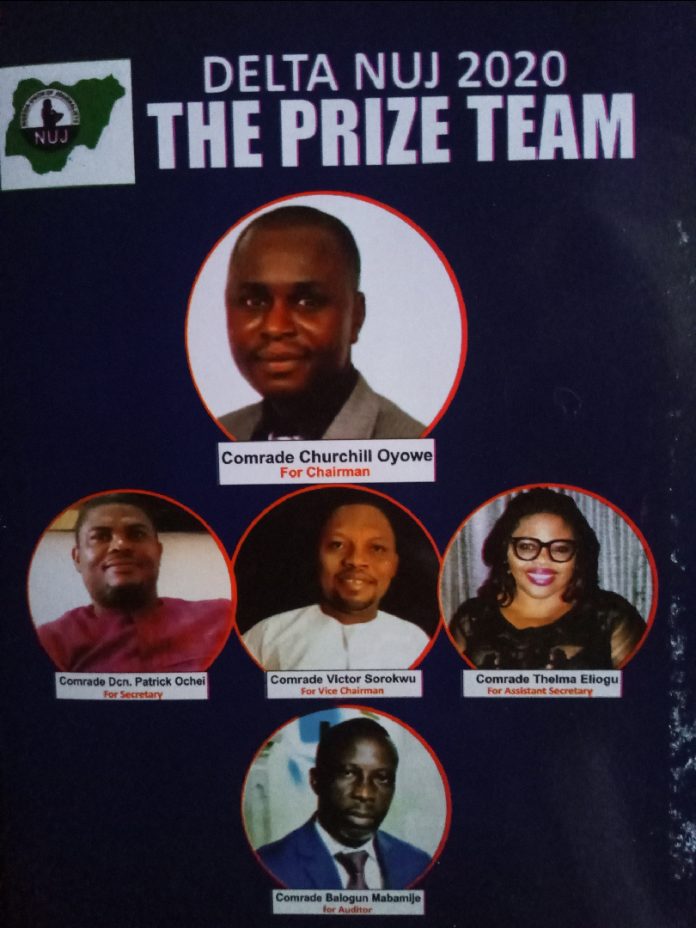 As the race to electing new executive in order to pilot the affairs of Nigeria Union of Journalists , NUJ, Delta State Council come July 2, 2020 continues the NUJ Delta State Chairmanship candidate, Comrade Churchill Oyowe and his other executive candidates namely : Vice Chairmanship candidate, Victor Sorokwu, the Secretary candidate , Comrade Patrick Ochei , Assistant Secretary candidate, Comrade Thelma Eliogu and the Auditor candidate, Comrade Balogun Mabamije are all coasting to victory due to their manifestos and convincing issue based campaign they have explicitly presented it to electorate members of the Delta NUJ.
Comrade Oyowe and his team known with the acronym P.R.I.Z.E which means Professionalism, Resource Development, Investment/Business/Entrepreneurship Drive as well as Zealous Corporate Relationship Drive and Empowerment/Welfare he assured journalists practicing in Delta that the team when elected will periodically provide general welfare packages and palliatives for members across the Delta NUJ Council and mobilize the members to support and attend programmes/event of members in the spirit of comradeship in order to add value and make Delta NUJ great again.
They were assured of massive votes by practicing journalists who are members and critical stakeholders of the union in Warri, Sapele, Ughelli, Isoko, Ika, Asaba, Local Government /Field Information, ICC and across other chapels in Delta State.
While campaigning at Warri Correspondents' Chapel, the team were engaged in issues affecting the Delta NUJ by Warri Correspondents' members , the leading Chairmanship candidate, Comrade Oyowe and his team took time out to explicitly answer the questions raised by the members in an overwhelming and convincing issue based responses to all issues and the comrades were satisfied with his responses to issues affecting the Delta NUJ.
They wished the P.R.I. Z.E the Team well as they embark on the election and appealed to Comrade Oyowe to replicate and organize more training for journalists within and outside Nigeria as they have benefited before during the time of their predecessor, Comrade Norbert Chiazor leadership , they urged the team if they emerge to reposition the union and make it more professional based , just as they appealed to them to carry everybody along in their administration after the election if they emerges victorious.
Secretary of Warri Correspondents' Chapel, Comrade Dele Fasan commended Comrade Oyowe and his team for the visit and for sticking to issue based campaign, urging them to continue their campaign peacefully as they have displayed and shun anything that would derail them.
The P.R.I.Z.E Team lifting the Trophy for Delta NUJ the candidates and their Chapels are as follows: Comrade Churchill Oyowe, Assistant Director, Ministry of Information, Candidate for Chairman, NUJ Delta state Council, Comrade Victor Sorokwu, Daily Trust Correspondent, Candidate for the position of Vice Chairman, NUJ Delta State Council, Comrade Deacon Patrick Ochei, Publisher , Anioma Trust, Editor-in-Chief, Integrity Watchdog Magazine, Candidate for Secretary, NUJ Delta State Council, Comrade Thelma Eliogu, Assistant Manager , News and Current Affairs NTA, Asaba, Candidate for position of Assistant Secretary, NUJ Delta State Council and Comrade Balogun Mabamije, Field Officer, Ministry of Information, Candidate for the office of Auditor, NUJ Delta State Council.