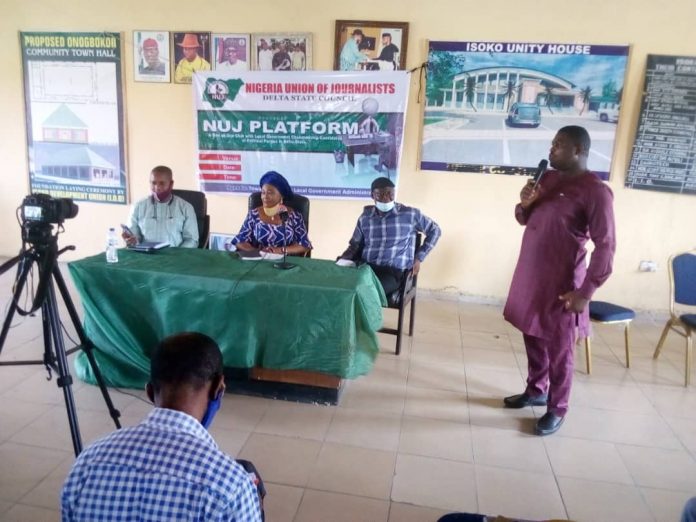 By JOHNSON EBIGIDE
The Chairman of the Delta State Council of the Nigeria Union of Journalists (NUJ), Comrade Michael Ikeogwu, has condemned in strong terms the nonchalant attitude of some of the chairmanship candidates for the upcoming local government election in the state.
Comrade Ikeogwu gave the condemnation at the Secretariat of Isoko Development Union (IDU) during the flag off of the union platform, put in place to engage all the chairmanship aspirants of the various political parties for the upcoming local government election in the state on a one-on-one discourse.
Issues came to a head when the expected chairmanship candidates of other parties in Isoko North and South local government areas of the state, but the two aspirants of the All Progressive Congress (APC) from the two local government areas, failed to honour the invitation of the union.
The labour leader maintained that the NUJ was not a political party, neither was it partisan in its approaches, but that the platform was carefully put in place by the union to present the aspiring chairmen and their goals to the electorates for assessment.
He said that the era of stampeding the electorates to cast their votes for unpopular candidates in an election in the state was over, adding that the NUJ was determined to play its constitutional mandate of being the Fourth Estate of the Realm and watchdog of the society by making those in government responsive and accountable to the electorates.
Comrade Ikeogwu said that those chairmanship candidates who still harbour the erroneous belief that winning the primaries of a giant party is an automatic ticket to seat comfortably as the chairman of any local government council in the state should have a rethink, adding that the NUJ would ensure that the votes of the electorates would count henceforth in all elections in the state.
Comrade Ikeogwu opined that the fortune of local government administration in the country had continued to nosedive owing to the low capacity of some of those entrusted with the control of the councils, adding that if elections to such councils became mere window dressings, the grassroots populace would continue to suffer deprivations, poor leadership and representative, just as he disclosed that the union will continue to make bare the scorecards of every local government chairman in the state for proper assessment by the general public.
Only the two chairmanship candidates of the APC in the two local government councils spoke about their manifestoes on the platform. They are Honourable Cornelius Ugoh, Isoko North and Deaconesses (Mrs) Hopelyn Eruore, Isoko South.