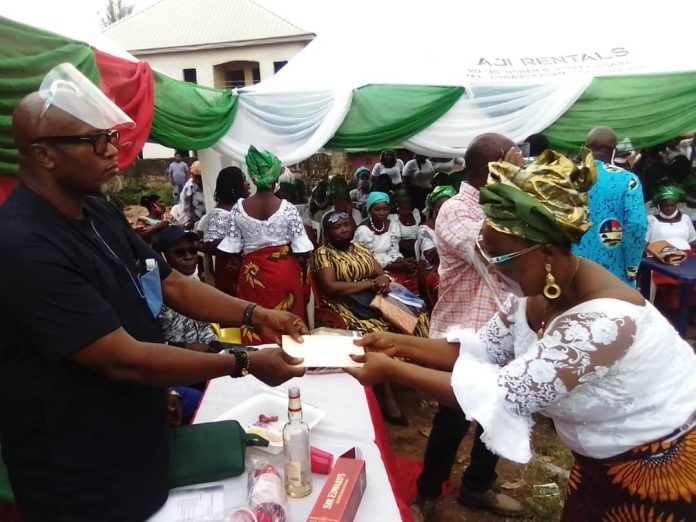 By Ozah BarthI–IT was an atmosphere of carnival on Sunday August 2, 2020 in Asaba when the Councilor representing Ward 8 in the Oshimili South Local Government Area, Hon. Rowland Nwabuokwu, popularly known as Tbrown, empowered the people of his constituent.
The epoch making event which was graced by notable politicians, business men and women, artisans as well the youths, was described as one of its kind in the LGA.
In his address, Hon. Nwabuokwu underscored the importance of reaching out to the electorate by way of empowerments especially in times of needs.
"Since I became a Councilor I have made efforts to serve my people in so many ways. I have made it a point of duty to always clear the major drains periodically, I have also made efforts to pay part of money for letter of identification for members of my constituent.
"I played a key role in ensuring that the Ogbeosowe road was tared. During the lock down, I gave out cash to so many people in the ward to help cushioned the impact of covid19 in their lives."
He however, assured his constituents that he will continue to have their interest at heart saying no matter what happened he will be there for them especially in the time of needs.
"Today, I am distributing wrappers to women and cash gifts to some Ward elders. It is my way of empowering the people, those who do not have today will certainly receive tomorrow." He assured.
Nwabuokwu said he had used his position to influence employment opportunities for many youth in the Ward and promised to continue to do so in order to make life more meaningful to the people.
He however, expressed appreciation to the people of the Ward for their support for the Okowa administration and the PDP, assuring them that he will continue to promote the party in the area.
On his part, the Chairman, Oshimili South Chapter of the People's Democratic Party (PDP), Ogbueshi Dada Okonji, who graced the occasion, noted that Hon. Nwabuokwu had done what many Councilors could not do, describing him as a true representative of his people.
Okonji appealed to the people of the Ward to continue to support the PDP and the Okowa administration, promising to remain a listening leader.