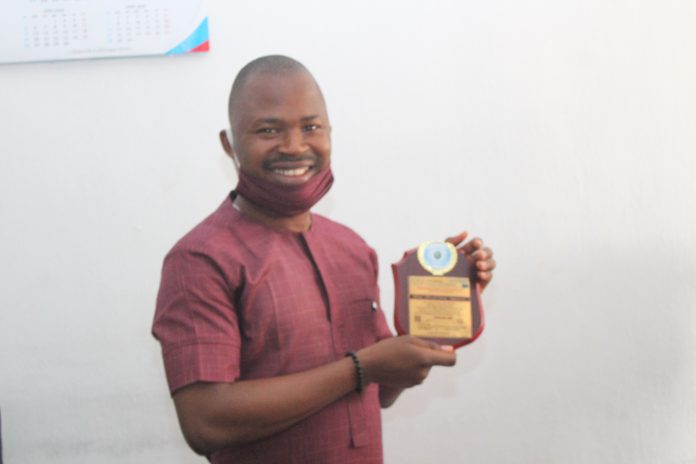 The Special Assitant to Delta State Governor on Special Duties Media and Nigeria Youth Ambassador Mr. Ossai Ovie Success has bagged the 2020 International Human Rights Commission, IHRC Award.
Ossai received the International Human Rights Commission, IHRC Award for being a community trailblazer and youth influencer
This was stated by the Secretary-General, Prof Rafal Marcin Wasik of IHRC , and the Nigeria Country Head, Dr. Sani Friday represented by the Delta State Representative of IHRC, Fidelis Onakpoma and alongside, Barr. Elizabeth Ekwerekwu, Comr. Eseagwu Peter Nnamdi, Dr. Uche Esegbue Paul, and Comr. Ojeabulu Emmanuel Osawe.
Amb Fidelis said Mr Ossai is an outstanding youth influencer, youth ambassador , social media personality who has affected humanity
"Amb Ossai merited this International Human Rights Commission, IHRC Award for the role he has continuously played for humanity particularly in the fight against COVID-19 and his palliative support for vulnerable Deltans.
More also, he was able to influenced political leaders, business moguls, and other wealthy Nigerians in serving humanity at this crucial time when service to humanity is unavoidably needed"
We hope that this Award will encourage him to continue his services to humanity."
While receiving the Award , Mr Ossai Commended the leadership of the International Human Rights Commission, IHRC for finding him worthy of the prestigious award .
"I am grateful to God Almighty for the privileged given to me to affect humanity  positively
To the leadership of IHRC, This Award is Dear to me , my family , friends and fans .
Irrespective of our position in the society,  there is something we can do to add value to humanity.
Service to humanity is the pathway of improving our society" he said while pledging his full partnership with IHRC for sustainable development in Delta State.
The International Human Rights Commission, IHRC also commended the Governor Aide Ossai stride on capacity building and entrepreneurial skills program designed to improve youth capacity in Delta State through the "Even a Professor Needs a Skill" Program.
Ossai, who was appointed by the Delta State Governor, Dr. Ifeanyi Okowa at the age of 23 as Political Aide and reappointed with elevation as Special Assitant at the age of 27 has distinguished himself by being an inspiration to youths, Empowering the youths across the state, giving scholarship to students by contributing positively to humanity and has been honoured with several Awards by different Non Governmental body.