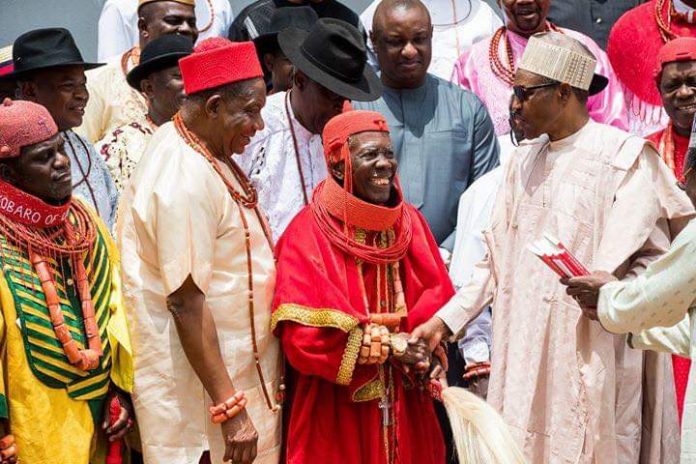 The President-General of the Urhobo Progress Union (UPU) Worldwide, Olorogun Dr. Moses Taiga has called on President Mohammadu Buhari to legalize community policing to boost security in the Niger Delta and Urhoboland specifically.
Taiga made this call over the weekend while fielding questions from pressmen on issues concerning the Urhobo Nation. He urged the federal government to consider legalizing community policing as part of the solution to the security challenges, noting that security is important for attracting investments that will provide job opportunities for the teeming youths. "Without security, there will be no investment or investors, with consequential zero job opportunities for our teaming youths. Our concern for the security situation for the state and country cannot therefore be over emphasized."
He said, "Only recently, the women in Oviri Olowu, in Ughelli South LGA decided that they were going to fight the herdsmen. Security is an item we should always put on the front burner. We call on government to find a solution to the Herdsmen menace in our communities so that our women can to go to their farms without fear of rape, attacks or being killed. We are also against the selling of our lands to these people for grazing purposes."
Touching on education and health, the UPU PG thanked the Ifeanyi Okowa-led Delta State government for the approval of the Urhobo Language Curriculum for Primary and Junior Secondary Schools, but added that teaching of Urhobo language should be extended to areas of Patani and Warri South LGAs, which have sizeable population of Urhobos.
On health, he noted: "These are new Normal times. With the COVID-19 Pandemic, our lives have changed. UPU therefore has added Responsibilities to our people. We intend to play a bigger role in community sensitization, ensuring that we prevent rather than treat Corona Virus. We also need to care more for the elderly, poor and infirmed persons.
Speaking on the relationship between the Urhobos and other ethnic groups, he explained that cooperation with neighbours is a sine qua non for the Urhobos: "It is our cardinal policy to co-exist with our neighbours, Ijaw, Itsekiri and Isoko; the Ukwani, Oshimili and Anioma and Bini; the lgbo, the Igala, the Yoruba and other ethnicities. We will continue to cultivate their friendship and good neighbourliness.
"The UPU shall continue to work with the Federal and Delta State Governments to ensure that Urhobos receive the economic impact of government policies. Whilst we as a socio-cultural Institution will remain non-partisan, we will seek to cooperate and work with each government and the institutions of state and federal governments of the day, to ensure that the Urhobo Nation gets its fair share of the resources and opportunities," he concluded.