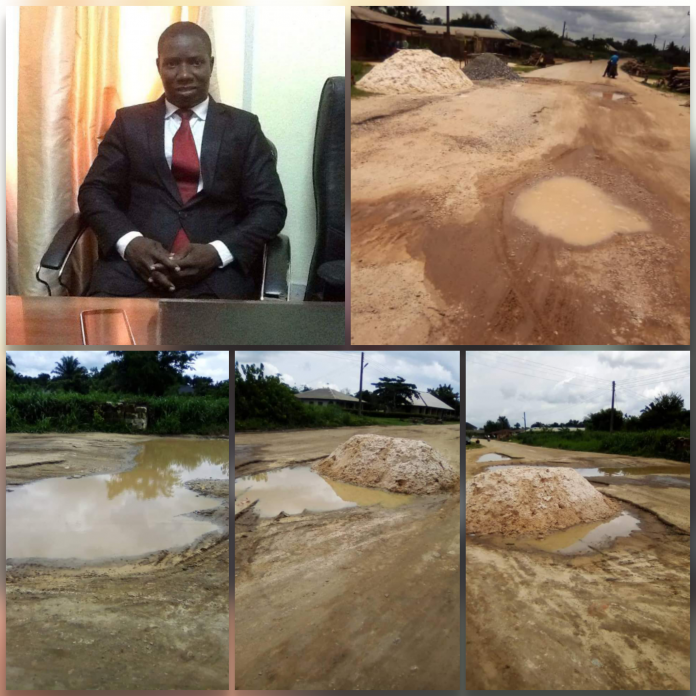 The Councillor representing Igbide Ward 7A in the Isoko South Legislative Arm, Hon Silver Onuje Ewhese, has appealed to Delta State Governor Senator (Dr) Ifeanyi Arthur Okowa to reconstruct Igbide-Olomoro road in Isoko South local government area of the state.
Hon Ewhese made the appeal when he paid an unscheduled visit to the road on Thursday, 25th March 2021 which he said has been in a very deplorable condition for long time.
The Councillor said except urgent steps were taken by the state government to address the ugly situation the only major road linking Igbide and Olomoro would be cut off from other roads in Isoko communities which will cause untold hardship to people residing in the localities.
Hon Ewhese emphasized that Igbide people were predominantly famers and needed a good and motorable road to enable them transport their farm produce to the market.
He stated that as a representative of the people at the grassroot level it behoves on him to draw the attention of the governor to the extent of damage on the road.
While assuring that Igbide people will remain law-abiding and would continue to support the administration of Gov Okowa, the Lawmaker called on the state government to take advantage of the dry season to commence work on the road.