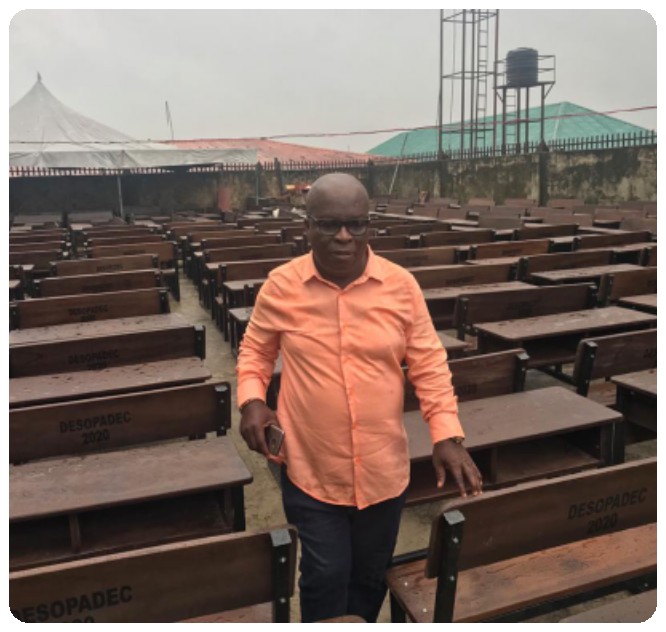 The Member Representing Udu Constituency in the Delta State House of Assembly, Hon Peter Uviejitobor has distributed another sets of furnitures to schools in Udu local government area.
Hon Uviejitobor while flagging off the distribution exercise to selected schools in his constituency, said the furnitures were part of efforts to enhance teaching and learning in the locality.
The Lawmaker stated that the furnitures, numbering 278 pairs of desks and chairs, were executed in collaboration with the Delta State Oil Producing Area Development Commission, DESOPADEC.
Hon Uviejitobor who is the Chairman, House Committee on Water Resources, disclosed that he had earlier distributed about 500 sets of similar furnitures to ten schools in the council area.
Flanked by the Commissioner, Representing Udu, Uvwie and Urhobos in Warri South, on the board of Desopadec, Chief Vincent Oyibode, the Lawmaker said six schools were selected for the new sets of furnitures.
He said the Okowa's administration had embarked on rehabilitation of schools in Udu and other parts of the state, saying "the furnitures to the refurbished schools was the next phase of government efforts to enhancing infrastructures in the institution".
Hon Uviejitobor commended Desopadec for the project, stressing that the Delta State House of Assembly will continue to collaborate with the Commission at ensuring that oil bearing communities were developed.
The Lawmaker also paid glowing tributes to Governor Ifeanyi Okowa for his commitment at promoting good governance in the state and supporting Desopadec to fast track the needed development in its mandate areas.
While assuring that the exercise will continue until all the schools in Udu got the furnitures, Hon Uviejitobor advised those that had benefited to make good use of the items as well as guide them against vandalism.
The Commissioner, Representing Udu, Uvwie and Urhobos in Warri South, on the board of Desopadec, Chief Vincent Oyibode, commended the quality of the furnitures, saying that the desks and chairs were of high standards in line with the specifications of the Commission.
Chief Oyibode emphasized that Desopadec will continue to partner with the Delta State House of Assembly and other critical stakeholders to attract development to oil producing communities.
He also thanked the state governor, Dr Ifeanyi Okowa for his development strides in the state.
The Schools that benefited from the second phase of the furnitures, include, Otor-Udu Secondary School, Otor-Udu, Owhorokpokpor Primary School, Ukpiovwin Primary School, Ogbe-Udu Secondary School, Ukpererhen Primary School, and Orhuwhorun Secondary School, all in Udu local government area.
Orhuwhorun High School, Oghior Secondary school, Okpaka Secondary School, Owhrode Secondary School, Opete Primary School, Ukpioviwin Primary School, Okolor waterside Primary school, Ovwhrodokpopo Primary School, Epame Primary School and Ayama Primary School, were the beneficiaries of the first phase of the furnitures project.